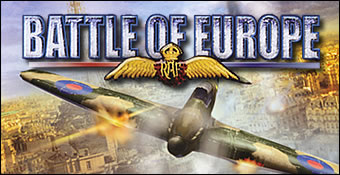 Est-il vraiment utile de vous préciser que Battle Of Europe placera le joueur dans le bombers d'un jeune pilote afin de suivre sa carrière de l'académie aux champs de bataille de l'Europe ? Franchement ? Bien, alors passons directement à la suite, bien qu'elle ne soit guère plus intéressante. Si récemment Blazing Angels a signé une performance séduisante essentiellement due à sa réalisation, Battle Of Europe n'arrive pas à causer la moindre sécrétion d'adrénaline. Son problème est simple : il est plat. Son rythme évoque celui d'un simulateur, lent et propice à un pilotage axé sur la technique et non sur les sensations fortes, mais, a contrario, ses modèles de vol sont très arcades et simplistes. La balance s'équilibre donc très mal et il s'en suit une réaction en chaîne qui rend le jeu triste comme une soupe à l'eau du robinet filtrée.

On a vu plus spectaculaire.
Avec un pilotage très sec, les combats aériens deviennent une drôle de sauce sans intérêt mais légèrement pénible. De plus, les difficultés de configuration du pad ou d'un manche à balai (peu recommandé ici) ne facilitent pas la prise en main. Impossible en effet d'utiliser les deux sticks analogiques sur un pad qui en dispose. En conséquences, roulis, lacet, inclinaison, dérive, tout se contrôle avec un seul stick et le pilotage devient extrêmement limité, rendant les manoeuvres dépourvues de sensations. En outre, la réalisation médiocre ne contribue pas à renforcer le sentiment d'immersion comme on est en droit de l'attendre dans un titre arcade, une fois de plus, la comparaison avec Blazing Angels parle d'elle-même. Les effets visuels sont quasiment inexistants, tout juste peut-on apercevoir un bout de lens flare piteux. Les explosions n'ont aucune patate, les armes sonnent comme des jouets en plastique et même les moteurs vrombissent tels de grosses mouches prises dans l'abat-jour d'une lampe de chevet. Si en temps normal ce bruit est synonyme d'un prochain déferlement de violence pantouflarde se concluant par la chute de l'abat-jour, ici il n'éveille que lassitude et chute du pad de la main d'un joueur endormi.
En explosant, vos ennnemis laissent derrière eux ces itens verts débloquant des missions bonus.
Même la musique ne réveille pas, là où on pourrait attendre de grands thèmes virulents, on se cogne une espèce d'easy listening symphonique dont je n'aurais jamais soupçonné l'existence avant que l'on m'en colle plein les oreilles. Au final, du décollage à l'atterrissage, que vous bombardiez, torpilliez ou que vous fassiez feu de votre mitrailleuse, à aucun moment le titre ne trouvera un moyen quelconque de vous exciter un tant soit peu. En somme, si vous cherchez un simulateur, ce n'est pas la bonne porte, si vous cherchez un jeu d'arcade, vous faites également erreur, si vous cherchez un moyen de dormir, là par contre on peut discuter.