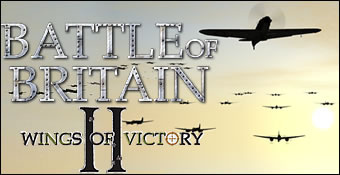 Le postulat de départ des développeurs est simple : recréer le plus fidèlement possible les conditions de l'époque tout en permettant au joueur d'incarner à la fois le commandant des flottes aériennes, mais aussi un pilote plongé au coeur de l'action. C'est pour cela que deux phases de jeu distinctes sont présentes. Dans la première, vous pourrez décider de la position de vos avions, de la composition des escouades et des autres choix tactiques sur une carte stratégique façon wargame, vos décisions ayant un impact sur toute la campagne. Alors que la seconde vous permet, lorsqu'un affrontement à lieu sur la carte, de participer directement audit combat en pilotant un avion. Deux campagnes solos sont présentes : une où vous contrôlerez la RAF qui aura pour but de défendre l'Angleterre contre les raids Nazi, et une où vous dirigez la Luftwaffe pour mener les attaques au coeur du territoire ennemi.

La bataille commence.
On retrouve évidemment la possibilité de piloter les avions de l'époque dont les modèles de vol ont été fidèlement reproduits. Les cinq coucous disponibles sont : le Hawker Hurricane, le Supermarine Spitfire, les Messerschmitt Bf109 et Bf110 et enfin, le bombardier Junkers Ju-87. Car Battle of Britain 2 est bien une simulation et pas un jeu arcade. Le vent, les effets de G avec voile noir et rouge, l'angle du pas d'hélice et les effets de torsion, tout cela est pris en compte pour reproduire au mieux les véritables réactions de l'avion et du pilote face aux situations rencontrées. Signalons que les différentes missions du tutoriel sont nettement insuffisantes pour qu'un débutant apprenne véritablement à maîtriser ces engins. Même en mettant les modèles de vol en "novice", les béotiens risquent donc de ne pas pouvoir arriver à gagner leurs combats aériens parce qu'hormis les difficultés de pilotage de leur avion, ils seront confrontés à des adversaires de très haut niveau. En effet, l'intelligence artificielle est loin d'être idiote et ne se laisse pas détruire facilement.

Ici, je contrôle la mitrailleuse d'un bombardier.
Pendant les combats, vous pouvez accélérer et ralentir le temps et même l'arrêter puisque le jeu dispose d'une pause active. Ces fonctionnalités sont très utiles lorsque vous avez une longue distance à parcourir sans danger immédiat (on peut alors accélérer le temps pour arriver plus vite sur l'objectif), mais aussi en pleine bataille pour donner des indications à ses alliés. En effet, vous n'êtes pas tout seul dans le ciel et un combat se fait le plus souvent en escouade. La pause active permet de donner des instructions à ses alliés en toute quiétude, en réfléchissant bien à ce que l'on veut faire. Comme dans la majorité des simulations aériennes, Battle of Britain 2 a quelques petits soucis au niveau des temps de chargement qui dépassent souvent la minute. En outre, de petits problèmes de stabilité avec quelques retours Windows sont à signaler. Vous avez donc intérêt à sauvegarder votre campagne fréquemment. Sauvegarde qui n'est hélas pas disponible dans le mode "Action immédiate".

Il est possible de donner des ordres à ses alliés.
Disons justement quelques mots sur ce mode. En fait, il vous propose 28 missions divisées en plusieurs catégories. La première est un tutorial de dix niveaux qui vous apprendra entre autres à décoller et à atterrir. Hélas, les consignes données ne sont pas claires et il faudra donc se référer au manuel pdf de 131 pages pour apprendre les rudiments du pilotage. La deuxième catégorie de missions porte le nom de "Combats tournoyants". Elle vous permet de paramétrer votre partie en décidant par exemple de participer à un combat en un contre un, en groupe, de laisser un avantage à l'un des deux camps... La troisième catégorie de missions propose des attaques au sol contre des navires ou contre des cibles terrestres. La suivante fait entrer en jeu des bombardiers que vous devez intercepter. Enfin, la dernière catégorie est aussi la plus intéressante car elle comprend de véritables batailles historiques. Au nombre de six, vous pouvez goûter au raids contre Londres, à la fin du Défiant... Bref, et à la différence des deux campagnes, les missions du mode Action Immédiate se concentrent uniquement sur la simulation et n'ont pas de phases wargame. Petit regret en passant, Battle of Britain 2 n'a aucun mode multijoueur, mode qui aurait pourtant été très bénéfique pour la durée de vie. Reste cependant un titre intéressant pour les joueurs confirmés qui trouveront en lui un challenge à leur mesure. A cause de sa prise en main délicate on ne le conseillera pas à ceux qui ne sont pas véritablement des férus de wargame et de simulation.