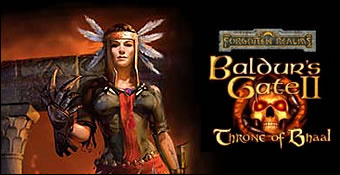 « Le Seigneur du Meurtre périra, mais de sa mort naîtront des enfants qui seront l'âme même du Chaos », ainsi parlait Alaundo le Sage. Et ainsi commence l'histoire de Throne of Bhaal, celle du héros maudit, celui qui apporte le malheur autour de lui parce que son sang impur n'engendre que le chaos, l'histoire de l'enfant de Bhaal. Une lutte fratricide pour la succession de Bhaal sur le trône de feu. Une quête qu'il faudra à tout prix mener à bien, car plus que jamais, le rôle que vous jouerez sera déterminant pour la destinée des Royaumes Oubliés.

Mettons les choses au clair d'entrée : Throne of Bhaal est un add-on, une extension, un « plus » destiné avant tout aux combattants aguerris de Baldur's Gate 2 qui ne rêvent que de prolonger les nombreuses heures déjà écoulées dans les labyrinthes du hit de Bioware. Mais à la différence de nombreux add-on, TOB n'apporte aucun véritable changement ni aucune amélioration majeure en ce qui concerne l'interface de jeu. On a affaire ici à une extension qui se veut le prolongement d'une aventure et rien d'autre. Mais quel prolongement ! Une quête d'une cinquantaine d'heures de jeu dans les Royaumes Oubliés pour une aventure inoubliable qui risque de vous couper définitivement du monde réel.
Vous le savez probablement déjà mais un bref rappel de tout ce que Throne of Bhaal apporte de neuf s'impose. Alors que la quête s'approche inexorablement de son dénouement, il était devenu nécessaire d'offrir aux joueurs la possibilité de faire évoluer leur groupe de héros à des levels qui défient les règles d'AD&D. Désormais, c'est jusqu'au level 40 que vos personnages pourront acquérir de l'expérience, gagnant par là même des compétences et des pouvoirs inédits.
Car s'il est toujours possible de choisir le niveau de difficulté, le challenge proposé dans cet add-on se veut plus corsé que dans BGII. L'occasion de ressortir votre groupe de héros expérimentés grâce aux nombreuses batailles livrées dans BGII. Dès lors rassurez-vous, le vaillant guerrier que vous chérissez depuis le premier épisode de Baldur's Gate sera lui-aussi de la partie si vous décidez de l'importer, lui ou un groupe de personnages déjà constitué dans les aventures précédentes. Mais si le jeu se destine avant-tout à ceux qui ont déjà accompli la longue quête de Baldur's Gate II, les autres pourront également tenter l'aventure dans Throne of Bhaal en créant un nouveau personnage (équipé par défaut de quelques items indispensables pour ne pas débuter l'aventure complètement démuni) qui sera rapidement rejoint par d'autres aventuriers qui ne demandent qu'à trouver un groupe.

Plus que jamais, c'est dans l'immense richesse de son scénario et dans l'extrême fidélité de son gameplay aux règles de AD&D seconde édition que Throne of Bhaal puise son intérêt. Difficile de détrôner un monarque tel que Baldur's Gate pour le titre de meilleur jeu de rôle sur PC, et force est de reconnaître que l'élu mérite bien son titre. Déjà immense, la quête de BGII s'étoffe grâce à Throne of Bhaal de territoires encore inexplorés (9 nouvelles zones), et renouvelle considérablement l'aventure en y apportant son lot de nouvelles créatures (une quinzaine), nouvelles magies (une dizaine) et nouvelles compétences (une trentaine pour les personnages de haut niveau).

Il est même possible de revenir explorer les terres de Baldur's Gate II une fois l'add-on installé pour aller faire un tour du côté de la dangereuse Tour de Garde, désormais accessible. On ne s'étendra pas dans le détail fastidieux des nouvelles compétences, des nouveaux sorts et de toutes ces nouvelles caractéristiques qu'apporte cet add-on en terme de gameplay. Je vous laisse le soin de découvrir les mille et une possibilité de TOB par vous-même et de toutes façons des pages n'y suffiraient pas. Un mot tout de même sur la nouvelle classe de personnage que l'on pourra désormais incarner dans cet épisode : le mage entropique. Ce personnage, à destiner aux joueurs les plus inconscients, est un être capable d'une puissance dévastatrice mais dont les sorts aux effets imprévisibles peuvent se retourner contre celui qui en est l'auteur. Une arme à double tranchant que les fans auront sûrement hâte d'essayer à leurs risques et périls.
Si Throne of Bhaal ne constitue en rien une révolution dans l'histoire de Baldur's Gate, il n'en constitue pas moins un volet de qualité qui s'inscrit dans la continuité logique du premier opus, sans rien toucher à ce qui a fait le succès et l'efficacité du titre de Bioware. Le must indispensable pour les fans de Baldur's Gate.