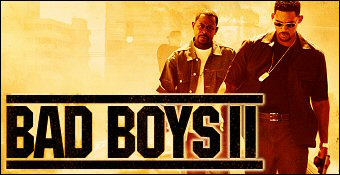 Bon, allez on va faire dans le social cette fois en ne jetant pas à la face de votre PC des diatribes envers l'ex-clippeur, Michael Bay....qui je le rappelle confond encore 24 et 128 images secondes, plan large et gros plan et ne peut s'empêcher de filmer sous acide de sorte qu'on ne comprenne rien au moindre plan constituant toute sa filmo (exception faite de Pearl Harbor peut-être)...Et zut, je m'étais promis de ne pas critiquer ce réalisateur qui a tout de même les somptueux The Rock (mon pauvre Sean), Armageddon (mon pauvre Bruce), Bad Boys ainsi que Bad Boys 2 (mon pauvre Will) à son actif. Et justement, Bad Boys 2 vient d'avoir droit à son adaptation sur PC, son arrivée tardive après celle des consoles de salon étant loin d'être synonyme de mise à jour ou d'une quelconque amélioration.

Les décors sont destructibles mais encore faut-il qu'il y ait quelque chose à détruire.
Vous allez donc toujours incarner Mike Lowrey et Marcus Burnett (les deux poulets qui n'arrêtent pas de piailler tout au long du jeu, au moins à ce niveau c'est respectueux du film où les deux acteurs s'envoyaient vanne sur vanne...blanc...pour notre, enfin surtout le votre, plaisir) qui vont cette fois s'intéresser à un trafic de stupéfiants mené d'une main de fer par un nouveau baron de la drogue ayant élu domicile à Miami...blanc...mouais je suis déjà en train de regretter Michael Mann et ses fidèles lieutenants, Ricardo Tubbs et Sonny Crockett, m'enfin, passons ! Cette trame scénaristique va être ainsi pour vous l'occasion de diriger les deux lurons (en alternance suivant les étapes composant les 13 niveaux du jeu) et de trucider à tout-va de méchants malfrats qui vous en veulent à donf, mais alors vraiment à donf, puisque justement vous essayez de casser leur petit business, ce qui n'est finalement pas très sympa de votre part.

Au fond, vous pouvez apercevoir les fameux méchants pétris de méchantes intentions à votre égard et possédant de méchantes armes.
Pour ce qui est de notre petite affaire, et bien il n'y a pas grand chose à en dire sachant que la linéarité du titre est désarmante, ceci étant accentué par le fait que les étapes des niveaux sont très courtes et hachent énormément l'action. Après, il vous faudra bon grè mal gré avancer en ramassant les armes (sachant que le titre en met 13 à notre disposition du fusil à pompe au Easy 9mn en passant par le AK, le fusil de snipe, le Steyguer...) et munitions qui jonchent sur le sol, sans oublier les trousses de soin ou encore plusieurs indices, qui bien que non indispensables, vous permettront de débloquer quelques bonus qui n'ont rien d'excitants (voir screenshot). Que dire de plus si ce n'est qu'à la fin de chaque niveau, vous serez confronté à un boss qui en tant que tel vous donnera un peu plus de fil à retordre.

Voici le type de bonus qu'on débloque en cours de mission...gros blanc...
Ce qui embête dans Bad Boys 2, hormis sa relative mollesse en terme d'action (et les quelques éléments destructibles des décors pouvant provoquer des explosions n'y changeront pas grand chose), c'est bien le fait qu'on ait l'impression que le jeu n'a pas dû demander beaucoup d'efforts aux programmeurs. L'aspect graphique, par exemple est à tomber raide ! Diantre et dire qu'à côté de ça on trouve des jeux comme Max Payne 2 ou dans une moindre mesure True Crime ou même Dead To Rights (je plaide coupable, j'aime beaucoup ce petit titre). Si on peut à la limite passer sur les cinématiques (absolument affreuses mais ne constituant pas le corps du jeu), le moteur graphique est complètement à la ramasse avec ses décors superbement vides, ses ennemis issus de familles de quintuplés et des animations manquant d'étapes, de souplesse, enfin d'un peu de tout en fait. De plus question originalité inhérente aux décors, on repassera. D'une salle de jeu vidéo à un hangar, une usine, une maison délabrée, un port, etc., ce n'est pas la joie. D'ailleurs, on remarque qu'on nous ressert une fois encore le combat (qui semble être un passage obligé) contre un hélicoptère, scène qui avait été magnifiée dans Metal Gear Solid (avec le Hind) ou dans le deuxième opus (avec un jet cette fois) mais qui ici se veut juste plaisante à voir.

Je sais, c'est moche d'interrompre une répét.
Mais plus encore que la partie graphique, c'est le gameplay qui est plus que bancal. On nous donne par exemple la possibilité de nous cacher mais ceci est limité car les endroits derrière lesquels on peut se protéger sont en nombre réduit et représentés par un rond de couleur. Le joueur pourra alors s'y cacher automatiquement (quand il sera assez prêt du rond qui virera alors au rouge) et à l'aide d'une touche passer en vue subjective pour sortir rapidement de sa cachette et tirer sur les ennemis qui vous attendent un peu plus loin. Il est d'ailleurs étrange que cet aspect soit mis en avant car très restrictif par rapport à la plupart des titres qui nous permettent de nous cacher un peu partout. Les ennemis, eux, sont des plus stupides puisqu'ils ne bougent quasiment jamais et il m'est même parfois arrivé de me retrouver derrière-eux sans qu'ils bronchent le moins du monde. Rajoutez à cela un coéquipier qui vous suit dans vos missions mais qui ne sert strictement à rien car ne tirant jamais, ne se mettant presque jamais à couvert et pouvant se retrouver face à un ennemi et attendre comme un idiot de passer de vie à trépas sans lever le plus petit doigt. En gros, vous ne devrez compter que sur vous-même et votre pétoire.
Voici venu le temps de boucler ce tout petit test qui est à l'image du jeu qui y est décortiqué. Face aux poids lourds que sont True Crime et Max Payne 2, Bad Boys 2 n'a que peu de chances de s'imposer dans le coeur des joueurs. Mal fini, un gameplay éculé, une technique chancelante, Bad Boys 2 ne convainct pas vraiment. Mais après tout pouvez t-on attendre autre chose d'une d'adaptation du film de Bay ? La question reste en suspend.