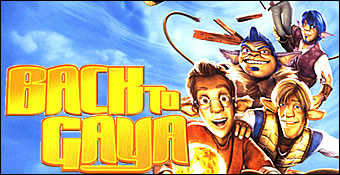 Sorti en 2005, Le Monde Fabuleux de Gaya raconte comment les héros d'une série animée finissent par prendre vie dans notre monde bien réel, plongés dans cette dimension suite au vol d'une orbe magique dérobée par un savant fou. Deux héros sachant mêler force et bravoure au génie aussi inventif que couard, un duo classique mais efficace. Autour des seize niveaux du jeu, on pourra découvrir quelques cinématiques puisées dans le film, des scènes qui souffrent malheureusement de 3 tares. La première étant qu'elles sont en V.O. non sous-titrée, ce qui fera plaisir aux joueurs non anglophones (au hasard, aux plus jeunes). La seconde est leur qualité douteuse qui s'explique par une compression au format DivX faite à la va-vite. Et enfin, troisième grief, la présence justement du logo DivX qui se charge de donner une vilaine allure bien cheap à l'ensemble.

Des rats géants, des araignées... Ca y est, je suis de retour dans un MMORPG.
Enfin bon, ce ne sont là que peccadilles qui n'ont jamais empêché de profiter d'un jeu. Back To Gaya nous arrive donc sous la forme d'un jeu de plate-forme parfois ponctué de phases de courses. Outre un bâton faisant office d'arme, Zino, notre héros télévisé, pourra employer quelques inventions mises au point par son camarade Boo. Le Lance-pierre multifonction vous permettra de lancer un harpon et de franchir les gouffres. De leur côté, les bracelets de défense figeront vos ennemis, le lance-pointes lancera des pointes et la lampe frontale... ben fera la lumière. Ainsi, vous voilà équipé pour traverser le jeu en effectuant quelques bonds et en cognant sur deux ou trois bestioles. Et quand on dit deux ou trois, on tombe juste puisqu'une fois qu'on a fait connaissance avec les araignées, les souris et les cafards, on a fait le tour des habitants. Oui, "ouch", comme vous dites.

Le harpon permet de franchir le vide, mais aussi de tomber dedans si on est maladroit.
On peut dire que vu de l'extérieur, Back To Gaya ne marque pas beaucoup de points. Une présentation qui laisse à désirer (pour un jeu à licence, c'est mal), des bonus peu nombreux, des ennemis encore plus rares. Il va falloir assurer sur la jouabilité et le level design. Or, évidemment, Back To Gaya néglige cet aspect là aussi. Le level design est donc confus, tout en étant pourtant tout à fait linéaire et convenu. Les actions que l'on vous demande d'effectuer sont peu intéressantes, répondant à des schémas vus et revus mais que le jeu nous assène sans cesse, dans le plus pur style "je pousse la caisse pour attraper la clef de la porte". Mais le plus gros problème vient sans conteste de la maniabilité. Pour un jeu de plate-forme, on s'étonne de voir les sauts ridicules du héros de Back To Gaya qui se montrent bien trop courts et sans aucune amplitude. Pire, il ne sait même pas effectuer de double saut. Ajoutez à cela une très grande imprécision et vous obtenez un cocktail bien amer que vos invités se feront une joie de cracher dans les plantes vertes.
Et il n'en faut pas plus pour ruiner le jeu qui ne partait déjà pas sur des bases très saines. Rien ne pousse à poursuivre l'aventure, ni les missions lassantes, ni la prise en main inadaptée et certainement pas les extraits du film qui ont l'air de sortir d'une mauvaise copie pirate. Il y a quelqu'un à la tête de ce projet ludique qui compte un peu trop sur le pouvoir persuasif du film pour vendre son jeu. Et vu le succès du film en question, ce quelqu'un a fait une grosse bourde.