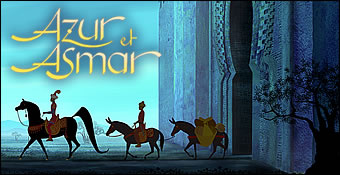 Situé dans le Moyen-Orient médiéval, le soft vous propose d'incarner alternativement Azur et Asmar. Les deux personnages sont frères de lait, élevés par une femme dévouée qui les abreuve des années durant de récits mystiques sur la fée des Djinns. Devenu grand, Azur fils naturel du châtelain local, la tignasse blonde, la peau blanche et les yeux bleus décide de partir à la recherche de la fée. Asmar, fils de la nourrice, la peau sombre et les yeux noirs n'est pas en reste et se lance lui aussi à la poursuite des rêves qui ont bercé son enfance. Les deux jeunes hommes vont donc rivaliser d'audace et d'ingéniosité et tenter de mener à bien leur quête fraternelle. Avec son scénario poétique au possible, le film se pare d'une esthétique simple et colorée du plus bel effet. C'est cet aspect magique que l'adaptation vidéoludique tente de reproduire sur votre PC, mais le jeu est à des années-lumière de la pellicule d'Ocelot, qui j'en suis sûr, serait bien malheureux de voir son oeuvre aussi ouvertement maltraitée.

Un petit air de Prince Of Persia l'ancêtre.
La galette d'Azur et Asmar n'est en fait qu'une pâle copie de Prince Of Persia. Loin de moi l'idée de vous faire frétiller d'envie et d'impatience, car ce n'est pas à l'excellent dernier épisode, Les Sables Du Temps, que je fais allusion, mais bien au tout premier jeu de la série sorti il y a près de 18 ans. Si le prince avait fait sensation à l'époque, Azur et Asmar font plutôt figure de désastre. Tout dans ce soft est lacunaire, tout y est dépassé, tant le gameplay que la réalisation. On a donc affaire à un jeu de plates-formes des plus basiques dont l'objectif sera simplement de traverser les niveaux en un seul morceau, chose qu'il sera plutôt aisé de faire puisque les points de sauvegarde automatique sont légion. De fait, on pourra donc citer ici un des rares points positifs du soft : son accessibilité et sa relative facilité. Cela fait, il ne reste plus qu'à constater l'ampleur des dégâts. Le titre souffre avant tout de sa réalisation d'un autre âge. La 2D est simpliste, les textures sont grossières et se chevauchent, les bugs sont pléthoriques, l'animation risible, les saccades nombreuses et la lisibilité de l'action parfois déplorable car les différents objets du décor n'ont jamais la bonté de se rendre transparents. En bref, on a vraiment l'impression que H.G. Wells est passé par là et que les développeurs ont effectué un saut dans le passé de plusieurs années. Même les extraits du film que l'on retrouve entre les niveaux sont affligés d'un grain d'image qui évoque plus des screeners que de véritables reprises officielles du film.

Mais... mais... où est-il donc passé ?
Dans le même ordre idée, la jouabilité n'a franchement rien pour elle. Tous les pièges et mécanismes présents dans les niveaux n'ont aucune originalité : pics acérés qui surgissent du sol, blocs de rochers qui se décrochent de la voûte d'une caverne, plates-formes qui s'effritent sous vos pas, etc. Les deux personnages ne se distinguent que par leur couleur et atours différents, et se prennent en main exactement de la même manière. Si les phases avec Azur sont plus aériennes et basées sur les sauts de cabri, celles d'Asmar sont axées sur les combats. Tous deux se déplacent facilement mais il est bien souvent difficile de sauter au bon moment tant l'animation et les saccades ne permettent pas d'anticiper correctement. Même la caméra s'en mêle pour vous jouer de mauvais tours en changeant d'angle juste quand il ne faut pas. Pour un jeu en 2D, ça fait vraiment mal au ventre. Parlons enfin des ennemis, stupides et peu variés. Il suffit bien souvent de s'en approcher et de faire une attaque qui manque cruellement de punch pour les éliminer, et dans la plupart des cas, ils ne sauront même pas ce qui vient de leur tomber sur le nez. Pire, essayez donc de sauter sur le dos des adversaires, ils ne réagiront même pas et resteront immobiles, inconscients d'être le véhicule provisoire d'un passager clandestin ou du surpoids soudain dont ils sont victimes. Je mets fin au supplice car vous l'avez compris, ce soft est une insulte au film dont il est tiré, et ne propose rien pour échapper à l'étiquette d'aberration vidéoludique.