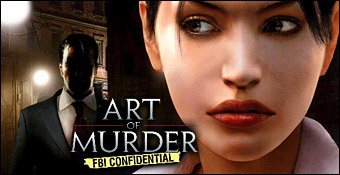 Si le scénario de Art of Murder : FBI Confidential lorgne du côté des plus célèbres séries TV policières américaines, son héroïne Nicole Bonnet évoque quant à elle la Clarice Starling du Silence des Agneaux. Jeune recrue à peine installée dans les bureaux new-yorkais du FBI, elle se serait probablement vue confier longtemps des tâches aussi passionnantes que la recharge d'imprimante en feuilles de papier ou la préparation de cafés à son coéquipier. Par chance, ce dernier s'est récemment éteint dans ses bras, abattu en service dans des circonstances particulièrement mystérieuses. La belle enquêtrice répète alors à l'envi qu'elle retrouvera le salaud qui a fait ça et qu'elle lui fera payer son crime. Pour l'heure, son supérieur n'a pas vraiment l'intention de lui laisser le dossier entre les mains et préfère la charger d'une autre affaire, celle d'un tueur en série qui signe ses meurtres atroces au moyen d'objets rituels précolombiens. Comme vous pouvez le constater, le scénario extrêmement classique de Art of Murder aligne les clichés comme des perles : le patron débordé sauf quand il s'agit de vous demander un rapport, le coéquipier borderline aux méthodes peu orthodoxes, le psychopathe méticuleux et insaisissable...

L'interface est pratique, mais on se serait bien passé de l'affreux pointeur en forme de souris.
Soyons indulgents : si le scénario n'est pas de la trempe d'un Still Life, il n'est pas plus indigent que celui des séries américaines dont il s'inspire. L'avalanche de lieux communs serait donc un moindre mal si l'aventure se montrait efficace en termes d'ambiance et de progression. Ce qui n'est pas le cas. Qu'elle soit filmique ou vidéoludique, une enquête palpitante (et a fortiori réussie) réside dans un savant mélange d'immersion et de réflexion, deux composantes dont l'absence se fait cruellement sentir dans Art of Murder. Pour commencer, le joueur est constamment mis sur des rails. Nicole transite d'un lieu à l'autre en utilisant sa voiture, où l'attend une carte soigneusement dépliée sur le siège passager. Celle-ci pointe invariablement sa prochaine destination. Pas moyen d'y couper. Et une fois parvenu à l'endroit donné, impossible de le quitter sans avoir accompli toutes les actions attendues par le jeu. La linéarité, typique du genre, est ici à son apogée. Pire : espérant éviter au joueur les classiques mais fastidieux balayages de l'écran à la souris, les développeurs ont implémenté une fonction d'aide (désormais incontournable ?) permettant de visualiser les zones interactives du décor. Les différents endroits visités, peu vastes, ne se composent pourtant que de quelques écrans, généralement peu riches en interactions. Il devient donc impossible de manquer quelque chose, tout comme dans ces phases de dialogues extrêmement dirigistes où Nicole n'a aucun choix possible des répliques. Bref, le joueur subit l'aventure plus qu'il ne la vit, et n'est jamais sollicité comme il le conviendrait. Alors que la boîte de jeu l'invite à « penser comme un criminel », il n'a que très rarement l'occasion de faire fonctionner ses propres cellules grises pour progresser dans l'enquête.

Petit plus sympathique : le jeu est truffé de références cinématographiques.
Art of Murder pourrait tout au moins constituer un bon roman interactif. Il témoigne en effet d'une certaine qualité dans la narration, qui s'appuie sur l'aspect réaliste de ses situations (scènes de crimes, déroulement de l'enquête) ainsi que sur des énigmes toujours logiques, souvent basées sur l'analyse de preuves au moyen du matériel de pointe disponible dans les locaux du FBI. Mais il en faut plus pour garder le joueur en haleine et le préserver de l'ennui qui ne tarde guère à s'installer. Et pour cause : en raison de son ancrage dans des décors réalistes mais souvent froids, statiques et peu peuplés, le jeu souffre d'un déficit important d'atmosphère qui nuit considérablement à l'immersion. Les quelques notes de violoncelle qui illustrent les scènes fortes ne suffisent pas à relever une ambiance trop peu marquée. On n'est jamais vraiment inquiet pour l'héroïne, à laquelle il est bien difficile de s'identifier : en dépit d'une personnalité attachante, elle manque de profondeur au niveau psychologique, à l'image des autres protagonistes du jeu. Quant aux voix françaises, bien que bénéficiant d'un casting assez adapté, elles sont dites par des acteurs qui manquent de conviction. A leur décharge, il ne doit pas être simple de doubler des personnages si "lisses" et dénués de toute épaisseur. Bref, malgré une réalisation qu'on qualifiera somme toute de correcte, notamment pour son animation réussie, jamais le joueur n'a le sentiment "d'y être". Un détachement à l'égard de l'héroïne apparaît rapidement, et l'envie de boucler l'aventure ne subsiste guère que pour connaître le fin mot de l'histoire, comme dans une mauvaise série B à la télévision. Il est par conséquent difficile de vous conseiller l'acquisition de Art of Murder : FBI Confidential, malgré son prix peu élevé. Les amateurs du genre préféreront sans doute attendre Still Life 2.