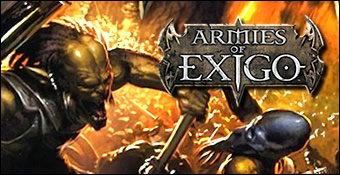 Classique, le mot est lâché. C'est en effet le terme qui caractérise le mieux Armies of Exigo dans quasiment tous les domaines : univers, scénario, gameplay... En fait, il semble que les développeurs n'aient pas voulu prendre de risque et ils nous proposent donc un titre agréable à jouer qui utilise des recettes déjà éprouvées pour nous séduire. Le problème c'est que le joueur habitué aux STR se sentira certes en terrain connu, mais ne sera aucunement séduit par un élément particulier, par le petit plus qui fait la différence entre un bon petit jeu et un hit. Armies of Exigo n'est pas un mauvais titre loin de là, mais qu'apporte t-il réellement au genre ? Rien ! Est-il superbement réalisé avec une histoire passionnante ? Pas vraiment. En fait, le scénario se résume à une guerre entre les trois grandes races des terres de Noran : les humains, les bêtes (sortes d'orques relookés) et les déchus (espèce de mélange entre des aliens et des morts-vivants). Il est évidemment possible de contrôler les trois factions.

La phase de construction et de récolte de ressources est assez longue.
Point positif, chaque camp dispose d'un gameplay bien différencié. Par exemple, les humains ont besoin de paysans pour récolter les trois ressources du jeu (or, gemmes et bois) et pour construire des bâtiments, alors que les déchus utilisent des moissonneurs pour la première tâche et des invocateurs pour la seconde. En outre, cette race ne peut construire que sur un terrain bien nivelé et ils ont des unités dédiées à cette fonction. Ce n'est pas le cas pour les humains et les bêtes. De plus, certains sorts sont réservés à une race particulière ce qui différencie encore un peu plus les forces en présence qui ne sont donc pas simplement des unités et des bâtiments doublons simplement relookés. Même si tout cela n'est pas très nouveau dans le petit monde du STR, on apprécie que les développeurs aient pris cette voie.

Il est possible de ramasser des bonus sur la carte.
Plus original, les cartes sur 2 niveaux permettent d'aborder le jeu sous un angle un peu différent. Enfin ça, c'est ce que l'on nous promettait parce que dans les faits, cette intéressante idée est un peu gâchée : les développeurs n'ont pas été assez loin dans l'exploitation de ce concept. En fait, si la plupart des cartes du jeu sont bien sur 2 niveaux avec la présence d'un sous-sol, ce n'est que trop rarement que l'on peut vraiment profiter de cette option pour faire des attaques fourbes en passant outre les défenses ennemies. En effet, les entrées des sous-sols sont trop souvent placées proche du centre de la carte et pas sur les bords ce qui interdit d'office au joueur de passer par le sous-sol pour contourner les lignes ennemies. Heureusement, il est possible de creuser n'importe où, mais ce concept aurait vraiment mérité d'être approfondi car il y avait de quoi faire quelque chose d'excellent.

Les sous-sols sont souvent très mal fréquentés.
Les sous-sols sont riches en ressources naturelles et il n'est donc pas inutile d'y monter une base annexe pour récolter de l'or ou des gemmes. Les deux plans de jeu sont aussi utilisés pour certains sorts qui ont une influence sur les deux niveaux du jeu : vous lancez un sort depuis le sous-sol et il agit aussi sur ce qui se trouve au dessus ou inversement. Plutôt sympa mais comme nous le disions tout à l'heure on reste un peu frustré que toutes ces bonnes idées n'aient pas été poussées plus loin. Toujours est-il qu'avec ces deux niveaux de jeu, on aurait pu craindre un pathfinding catastrophique. Et bien il n'en est rien, les unités peuvent se déplacer très aisément entre les deux plans et la présence de 2 cartes distinctes à l'écran permet de visualiser très simplement l'ensemble de la situation. Mais un bon pathfinding ne veut pas dire que l'IA lors des combats est fantastique et dans Armies of Exigo on est loin de la perfection sur ce point. Ainsi, on s'aperçoit parfois que même si votre camp est attaqué, les troupes que vous avez placées à l'intérieur sont incapables de faire quelques pas pour engager l'ennemi. Plus grave, aucune option ne permet de gérer l'attitude de vos hommes, c'est-à-dire de les placer en position défensive, agressive ou neutre. Ici, on ne peut leur donner que deux ordres : faire des patrouilles ou tenir la position. C'est tout ! Plutôt limité pour un jeu de stratégie !

Ce mode multi et escarmouche spécial vous permet ni plus ni moins que de faire une partie d'échecs !
Côté multijoueur, en revanche, on retrouve toutes les options à la mode et outre le classique deathmatch, il est aussi possible de participer à des captures du drapeau ou à une partie de roi de la colline. En revanche, on regrette un peu que le mode escarmouche se limite au deathmatch et que l'on ne puisse pas participer à des CTF ou à des King of the Hill en solo. Petite originalité tout de même : il est possible de faire une partie... d'échecs ! Non, vous ne rêvez pas ! Une carte reprend la disposition d'un échiquier et vous déplacez vos unités à la manière des pions sur un jeu de plateau. Un petit plus qui n'apporte rien au jeu en lui-même mais qui est assez sympa. En somme, on se retrouve avec un bon petit STR, mais il y a fort à parier qu'il ne fera pas date dans l'histoire du jeu vidéo comme a pu le faire un certain Warcraft 3 avant lui.