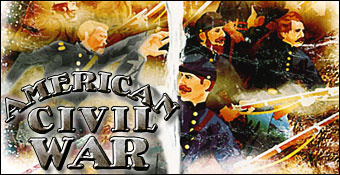 Ceux qui connaissent déjà Ageod savent d'emblée à quoi s'attendre avec cette nouvelle production. Le studio est en effet spécialisé dans la création de titres vraiment profonds sur le plan du gameplay, mais aussi très complexes à maîtriser et cet American Civil War ne déroge pas à cette règle. Dès l'étape du tutorial, on sait que l'on va en baver pour assimiler toutes les commandes et les subtilités qui ne se laisseront dompter que par les plus assidus et patients d'entre vous. Inutile donc d'acheter ce titre si vous n'avez jamais joué à un wargame de votre vie car ce n'est vraiment pas le meilleur choix pour débuter.
La météo doit entrer en ligne de compte dans vos déplacements.
Le principe général est en tout cas identique à celui de Birth of America (BoA) en cela que les objectifs des différents scénarios consistent souvent à conquérir certains territoires de la carte. Pour cela, il vous faudra bien évidemment avoir une armée performante. Celle-ci dépend beaucoup des zones que vous possédez. L'efficacité de l'appel de volontaires ou de la mobilisation dépendra en effet de cet élément, mais aussi du moral de votre armée. Plus il est élevé, et plus les recrues se bousculeront au portillon. La gestion de l'argent est pour sa part très importante puisque cet élément reste le nerf de la guerre. Posséder une zone avec une mine d'or est un plus non négligeable pour renflouer vos comptes. De plus, le ravitaillement est aussi une donnée à prendre en compte lorsque vous déplacez vos soldats, que ce soit par le biais de déplacements à pied, en train ou même en bateau. Comme dans Birth of America, la météo tient une grande place sur les opérations puisqu'en cas de très mauvais temps, les unités qui n'ont aucun abri subiront des pertes. C'est donc très complet à ce niveau. Signalons en tout cas que l'IA adverse a fait de gros progrès. Déjà excellente dans BoA, elle est encore plus étonnante dans American Civil War et réagit parfaitement à vos actions. Un vrai modèle du genre.

Les différents scénarios disponibles.
Si le gameplay très riche est une des caractéristiques des jeux Ageod, l'autre spécificité est le grand respect des faits historiques et là aussi American Civil War fait un sans-faute. Les développeurs ont fait de nombreuses recherches sur la période et le contenu s'en ressent. On peut ainsi participer à 5 campagnes complètes dont certaines se jouent sur plus d'une centaine de tours. Bien évidemment, les deux camps sont jouables : celui de l'Union et celui des Confédérés. Les parties se déroulent en tour par tour simultané, chaque tour durant deux semaines. Les armées peuvent être commandées par plus de 300 chefs historiques ayant tous des caractéristiques propres. Bref, vous avez de quoi faire, surtout qu'un mode multijoueur jouable à 2 par e-mail est au programme. De quoi passer quelques jours sur une même partie. Au final, ce jeu ravira certainement les amateurs du genre mais laissera les novices sur le bord du chemin.