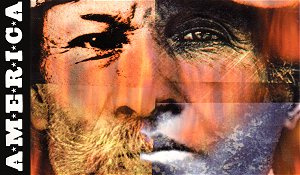 Micro Application passe donc à des jeux plus élaborés et ose une transition ambitieuse avec ce titre de STR. Un genre difficile tant le meilleur y côtoie souvent le pire. America fait donc son entée dans la catégorie, une entrée de manière discrète pour un soft qui devrait cependant s'en tirer avec les honneurs. Comme son nom le laissait présager, America vous propose de revivre l'aventure des pionniers qui bâtirent l'Amérique à l'époque de la ruée vers l'or. Des américains, des indiens mais également des mexicains et des desperados, voici les quatre clans qui s'opposeront dans ce soft pour la possession des précieuses terres d'Amerique. Même si l'on connaît la fin tragique pour certaines ethnies de l'aventure colonialiste, le jeu propose de manière sympathique et légère de parcourir les nombreuses campagnes dont disposent chacun des protagonistes et pourquoi pas de ré-écrire cette histoire.

Une interface soignée.
Vous prendrez la direction de l'un des quatre camps et tenterez de mener vos petits protégés jusqu'à la victoire. Chaque groupe bénéficie d'avantages et d'inconvénients différents et vous devrez bien entendu tenir compte des spécificités de chacun. Les indiens sont proches de la nature et l'utilisent avec respect et profit alors que l'absence de manufacture d'armes les rend plus vulnérables que les autres. Les mexicains disposent de fortifications et ont de leur côté la force de la religion et des fameux Padres capables de convertir les ennemis. Les américains de leur côté font parler la poudre et construisent des forts mais sont handicapés par le coup exorbitant de leurs technologies. Enfin les desperados possèdent un sérieux sens des affaires et de la production alimentaire en faisant de temps à autre tout péter autour d'eux au moyen de leurs explosifs. En contre-partie, leurs systèmes de défense sont limités et leurs technologies peu performantes.

Un niveau de détail satisfaisant.
Voici donc pour les différentes forces en présence qu'il vous faudra diriger au moyen d'une interface reprenant fidèlement les grands standards de la catégorie. L'ensemble des commandes fait de même en proposant des commandes qui rappelleront sans aucun doute à certains l'excellent Age Of Empire. Possibilité d'attribuer des numéros aux groupes d'unités, de les sélectionner par catégorie et bien sûr de centrer la vue sur elles, très pratique lorsqu'un combat éclate et que l'on est à l'autre bout de la carte. Les déplacement s'effectuent de manière naturelle et les ordres se donnent de manière somme toute assez classique en attribuant à chacun une tâche particulière. Le système de construction des infrastructures demeure également fidèle à la catégorie et les adeptes de STR ne risqueront pas d'être dépaysés. Les constructions possibles sont suffisamment nombreuses et variées pour accorder un bon intérêt à chacun des trois camps, renforçant au passage la dimension stratégique de ce soft.

Les fortifications s'avèrent un atout majeur.
Côté graphismes, rien de transcendant mais un bon niveau néanmoins et qui nous montre une fois de plus qu'America tient parfaitement la route par rapport à ses congénères. Vue isométrique, détails en nombre satisfaisant et animations de bonne qualité, voici pour le gros de l'environnement visuel de ce titre. On reprochera peut-être un déplacement sur la carte pas toujours précis et parvenant parfois à être gênant mais l'ensemble n'en est pas moins tout à fait correct. Côté effets sonores, là encore le niveau est honorable alors que les musiques sont tout à fait soignées et relativement variées.
America signe au final une performance tout à fait honorable en dépit de son manque d'originalité au niveau de son système de jeu. Le lieu, l'époque et les forces en présence le sont beaucoup plus et devraient parvenir à faire sortir ce titre du lot. On regrettera à certains égards son aspect de clone de Age Of Empire même si la prestation qu'il fournit est de très bonne qualité. Les fans de STR devraient donc s'y retrouver et découvriront avec America un soft d'un bon niveau en terme de gameplay et de possibilités.