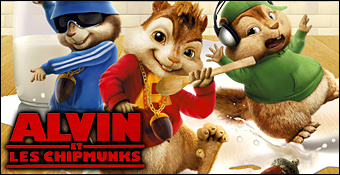 Afin de rendre un vibrant hommage au trio poilu, grand consommateur d'hélium devant l'éternel, la PC accueille un nouveau jeu de rythme dans lequel on devra battre la mesure à tout bout de champ, et jusqu'à ce que mort s'ensuive. Reprenant très maladroitement l'histoire et l'univers dépeints dans le film par le biais de quelques images fixes et de dialogues insipides, cette nouvelle galette a tout de même le mérite de délivrer un fond sonore relativement consistant. Vos petites oreilles profilées pourront donc être bercées au son d'une trentaine de morceaux connus et "embellis" par les douces voix nasillardes des Chipmunks. On découvre ainsi avec plaisir, un petit Alvin remplaçant pour un temps Michael Stipe dans "Shiny Happy People" ou B52 dans "Love Shack". On y trouvera également "I'm Gonna Be", "All The Small Things", "It's Tricky", "Walking On The Sun", "I Fought The Law", "You Really Got Me" ou "Video Killed The Radio Star", entre autres. Cela dit, même si la qualité sonore est bien là, je doute quand même que des individus sains d'esprit supportent les couinements des Chipmunks plus de dix minutes d'affilée. Mais au moins, de ce côté-là, on ne pourra pas reprocher au soft de ne pas faire honneur à l'étonnante performance vocale d'Alvin le rockeur. Le reste, vous vous en doutez bien, est une affaire de goût.

Tom Morello n'a qu'à bien se tenir...
Alvin Et Les Chipmunks propose donc aux mélomanes avertis que vous êtes de traverser les Etats-Unis pour donner une série de concerts et ainsi obtenir le statut de superstar intersidérale. Et nous voilà partis pour des sessions rythmiques pour le moins mollassonnes. Plutôt que de voir les notes descendre du haut de l'écran comme dans la plupart des jeux de rythme, celles-ci surgissent du centre de l'écran et se dirigent, en fonction de leur couleur, vers l'un des coins de l'écran. Votre pénible tâche consistera alors à presser le bouton correspondant à chaque coin de l'écran au bon moment. Dans le cas de la Wii, il faudra en plus agiter la Wiimote ou le Nunchuk, ce qui franchement, rend le jeu encore plus navrant et inintéressant que sur les autres supports, si cela est possible. D'autant que quel que soit le niveau de difficulté choisi, le soft est d'une facilité déconcertante et se contente de vous lâcher de plus en plus de notes au visage, dans l'espoir que cela suffise à vous divertir. Si vous parvenez à respecter le timing de la chanson, vous serez alors en mesure de réaliser des combos dispensateurs de nombreux points bonus. Points qui n'auront d'ailleurs pas d'autre utilité que celle de gonfler votre ego déjà démesuré. Chaque chanson impose bien évidemment son propre rythme, plus ou moins frénétique, mais au bout de deux ou trois morceaux, la lassitude finit inévitablement par s'installer. Car c'est un fait, le jeu ne fait rien pour varier les plaisirs, et ce gameplay primaire reste totalement inchangé tout au long du jeu.

Ah ça, pour faire des galipettes, y a du monde.
Cet insupportable vide vidéoludique déteint en plus sur la tenue graphique du soft, également médiocre. Rater un note, ou au contraire parvenir à sortir une série de 150 à la file, n'a effectivement pas la moindre influence sur les Chipmunks qui, quoi que vous fassiez, continueront de se trémousser lamentablement en arrière-plan, sans lien véritable avec le morceau en cours. Dépité, proche de l'overdose, le joueur cherchera peut-être à se consoler en défiant un ami en écran splitté (sauf sur PC, où le mode multijoueur est tout simplement passé à la trappe). Mais là encore, rien n'est fait pour pimenter cette odyssée musicale grinçante. Pas de bonus à jeter dans les pattes de l'adversaire ni d'autres joyeusetés. On devra simplement marquer plus de points qu'un adversaire, qui finira lui aussi mortifié par tant de platitude. Bref, si l'idée de créer un jeu de rythme mettant en scène les Chipmunks avait de quoi séduire les fans, se retrouver avec un tel chaos de pixels entre les mains n'a rien de réjouissant. Alvin et les Chipmunks viennent donc rejoindre les rangs déjà bien garnis des adaptations de films sans aucun intérêt et qui ne doivent leur existence qu'à la volonté de tout un tas de bonshommes en costume de nous déposséder de nos petites économies. Un titre à éviter.