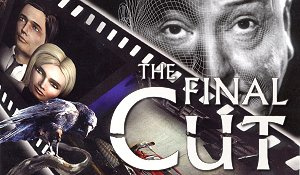 Rares sont les studios qui se risquent encore sur le terrain des jeux d'aventure. Alors qu'il y a quelques années à peine, les amateurs de casse têtes et d'énigmes pouvaient se réapprovisionner assez régulièrement en nouveaux titres, aujourd'hui c'est le calme plat. Pas assez rentable ?Trop dur à réaliser ? Ne me demandez pas la raison, je l'ignore complètement. Toujours est-il qu'elle semble bien loin la grande époque des jeux d'aventure Lucas Arts et Sierra... Pourtant, certains studios font encore de la résistance, c'est le cas de Arxel Tribe qui après plusieurs titres dans le style (Pilgrim, Faust, Casanova...) continue sur sa lancée en s'inspirant cette fois-ci du maître du suspense, le génial Alfred Hitchcock.

Il faudra fouiller de fond en comble tous les lieux pour trouver des indices.
Au lieu d'adapter directement l'un des films du cinéaste en jeu vidéo, Arxel Tribe a choisi de rendre hommage à Hitchcock en construisant un scénario tout neuf dans le plus pur style du maître, rempli de détails et de clins d'œil renvoyant directement à sa filmographie. Vous incarnez ici Joseph Shamley, un jeune détective privé qui se retrouve au milieu d'une affaire très étrange. Engagé par une jolie blonde très mystérieuse mais aussi très muette, il est chargé de retrouver une équipe de tournage volatilisée comme par magie. Ces personnes travaillaient sur le film du richissime oncle de la fille, un passionné d'Hitchcock. Qu'est devenu l'équipe de tournage ? Ont-ils été tué ? Enlevé ? Par qui ? Pourquoi ? Autant de questions qui trouveront leurs réponses dans l'enquête de Joseph.

Vous ferez une découverte bien macabre dans l'une des boîtes.
L'action se déroule dans les studios d'enregistrement privés du milliardaire où sont reconstituées plusieurs décors des films d'Hitchcock. On reconnaît instantanément chaque lieu : la cour de Fenêtre sur Cour, l'église de Sueurs Froides, le manoir de Psychose... tout semble à la fois très familier mais aussi très inquiétant. D'autant qu'Arxel Tribe a poussé le vice à utiliser une palette de couleurs très terne pour donner à son jeu un aspect « noir et blanc » proche des films précédemment cités. La bande son rappelle elle aussi beaucoup de souvenirs. De la musique toute gentille de la série « Hitchcock presents » aux croassements plus inquiétants des corbeaux, les fans se régaleront à faire la chasse aux nombreux clins d'œil que contient le jeu, certains étant d'ailleurs très durs à relever...

Vous débutez dans le manoir...
Contrairement à un Myst 3, les énigmes de Final Cut ne sont vraiment pas difficiles à comprendre. Je ne pense même pas que l'on puisse parler d'énigmes étant donné que ce sera plus votre sens de l'observation qui sera mis à contribution et non votre intelligence ou votre logique. Vous pourrez ainsi très bien tourner pendant des heures parce que vous n'aurez pas vu le petit tas de pixel qui représente un objet (maudite clé dans la main de l'acteur !). The Final Cut contient aussi quelques scènes dites d'action lors desquelles vous aurez par exemple à traverser un échafaudage ou à poursuivre un malfrat.

La vue se ressère pour les phases de recherche.
La réalisation est similaire à celle de Casanova. On dirige un Joseph tout en 3D et plutôt moche dans des décors fixes tout en 3D précalculées et plutôt jolis. Miracle de l'informatique, le résultat à l'écran est cohérent ! On ne tique pas du tout à cette différence de qualité. Les quelques cinématiques qui ponctuent le jeu, et plus particulièrement l'introduction, sont assez réussies. On regrette cependant les plans de caméra qui, s'ils sont bien dans l'esprit cinématographique d'Hitchcock, nuisent énormément au confort de jeu. Lorsque Joseph se retrouve à trois kilomètres tout au fond de l'écran et qu'il doit suivre un chemin, je vous avoue que sa maniabilité n'est pas optimale ! Le héros se déplace au clavier et on se sert de la souris lors des phases de recherches. Cette alternance clavier / souris n'est pas toujours très pratique et se révèle assez déconcertante au début. Le niveau de la bande son est excellent si l'on considère la qualité des thèmes musicaux, des bruitages, des ambiances sonores et des voix (à part celle du corbeau vraiment ridicule) mais des soucis de « fluidité » se font un peu trop sentir, surtout lors des changements de plans. Pour rester au chapitre son, certains samples de musiques sont très petits et se répètent inlassablement ce qui est vraiment, mais alors vraiment très lassant (pour ne pas dire autre chose !).
The Final Cut souffre également de graves problèmes de narration. Lors des dialogues, les sujets passent du coq à l'âne sans que l'on ne comprenne pourquoi et on a parfois l'impression qu'il manque des séquences... Mais non, tout est là, et c'est à nous de trouver de quoi il est question. Malgré toutes ces petites imperfections, Final Cut reste un jeu attachant de par son originalité de sujet et ses nombreuses références aux films d'Hitchcock. En plus des nombreux admirateurs du maître du suspense, il saura combler tous les amateurs d'enquête en mal d'aventures.