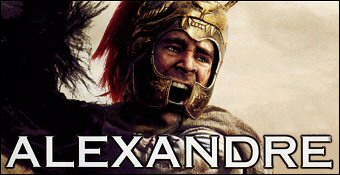 C'est en 2001 que le monde découvrait Cossacks : European Wars, un jeu de stratégie très particulier puisqu'il permettait de contrôler des milliers d'hommes pour participer à des batailles dantesques. Moins grand public qu'un Age of Mythology, mais permettant d'élaborer de véritables tactiques sur le champ de bataille, il avait su trouver son public et c'est donc tout naturellement que l'adaptation en jeu vidéo du film "Alexandre" d'Oliver Stone (dont la sortie sur grand écran est prévue pour janvier 2005) a été confiée aux talentueux développeurs de Cossacks. Un choix judicieux lorsqu'on sait que justement le film fait la part belle aux combats.

Des troupes prêtes à embarquer sur des navires de transport.
C'est donc dans la peau de Colin Farrell, ou plutôt d'Alexandre le Grand que l'aventure commence. Ce personnage antique charismatique avait vraiment l'esprit de conquête puisqu'il eut sous sa coupe d'immenses armées mais aussi des territoires entiers gagnés au prix de milliers de morts. Son épopée, et donc la vôtre, commence en Macédoine. Vous voyagerez ensuite vers l'Egypte, puis la Perse et enfin l'Inde pour vous constituer un grand Empire. Mais le jeu donne aussi accès à trois autres campagnes dans lesquelles vous pourrez prendre le contrôle des ennemis d'Alexandre : Porus, Darius et Nectanebo. Ce sont donc quatre empires qui sont contrôlables : la Grèce, l'Inde, l'Egypte et la Perse, chacun disposant de 7 unités propres. Hélas, les stratégies à adopter ne changent pas beaucoup quel que soit le camp choisi puisqu'on remarque vite que même si le look des bâtiments et des unités change, l'équivalent est la plupart du temps disponible dans tous les camps.

Et encore là, il n'y a pas beaucoup d'unités à l'écran : le jeu peut en gérer beaucoup plus.
Les quatre campagnes offrent tout de même un challenge intéressant et de longue halène, et on a même droit à une dizaine de minutes d'extrait du film en guise de cinématique. Autre petit bonus sympa, on peut visionner le trailer du film, mais aussi le making of de la bande originale qui a été composée par le très talentueux Vangelis. On retrouve d'ailleurs dans le jeu quelques-unes de ses créations adaptées pour l'occasion. Bon d'accord, elles ne sont pas assez nombreuses ce qui fait que l'ambiance sonore tombe très vite dans le répétitif, mais l'effort est louable et mérite d'être souligné. Côté bruitages et voix françaises, c'est là aussi du bon boulot qui a été effectué. Rien de magistral pour autant, mais c'est tout à fait honnête.

Les graphismes sont un peu plus fins que dans Cossacks.
Graphiquement, le jeu ressemble vraiment beaucoup à Cossacks. On peut ainsi avoir plusieurs milliers d'unités à l'écran et le tout est toujours en 2D. Deux niveaux de zoom sont disponibles pour voir l'action de près ou de loin. Des effets de brume plus jolis font leur apparition et on remarque que l'eau a bénéficié d'un soin tout particulier car elle gère désormais les reflets. Cela rend les combats sur l'eau beaucoup plus beaux qu'auparavant. En revanche, on regrette un peu que le pathfinding des bateaux soit aussi aléatoire. En effet, il n'est pas rare que lorsqu'on dispose de plusieurs navires, ceux-ci se gênent mutuellement. C'est d'autant plus dommage que les unités terrestres connaissent beaucoup moins ce problème. D'ailleurs, l'intelligence artificielle des paysans semble être tout à fait au point : ils prennent des initiatives et ne resteront jamais sans rien faire. Ainsi, ils peuvent se mettre à récolter automatiquement l'une des ressources du jeu si elle est disponible dans les parages (bois, pierre...) vous permettant par là même de vous concentrer sur ce qui fait l'essentiel du jeu : les combats. La phase de construction des bâtiments est de même très simplifiée et cela ravira les inconditionnels de tactique militaire qui pourront planifier sans souci leur stratégie, d'autant qu'une pause active est déclenchable à tout moment.
Le jeu, même s'il n'innove aucunement, offre toutes les fonctions à la mode dans les STR modernes : choix des formations, des attitudes (agressive, normale ou défensive), prise en compte du moral des troupes... Et si un héros accompagne vos hommes au combat, ceux-ci bénéficieront d'un bonus. De plus, un mode escarmouche et multijoueur jouable à 7 entièrement paramétrable est implémenté. Bref, rien de très nouveau, mais le tout est fort soigné. Comme le reste du jeu d'ailleurs, qui offre un gameplay plaisant mais très classique et sans une once d'innovation.