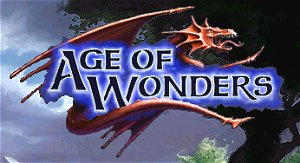 Dans Age Of Wonders, et d'une façon générale dans les jeux d'heroïc-Fantasy, le scénario de fond n'est jamais bien important. Ce qui importe avant tout, c'est d'être plongé dans ces univers si particuliers, si magiques, et de faire ces rencontres tantôt incongrues, tantôt énigmatiques… toujours surprenantes. De plus, on retrouve systématiquement ce schéma des bons contre les méchants, le côté clair contre le côté obscur, le bien contre le mal. Le monde d'Age of Wonders est donc peuplé de ces Elfes, ces Halflings, ces orcs, lutins, revenants etc. Pour chaque race, une foultitude de spécificités donne vie, âme et profondeur à chaque individu : les sorts, potions, magies, armes, compétences, on retrouve les canons qui font les bons jeux.

Le jeu fonctionne au tour par tour, ce qui laisse une grande place à la stratégie, et donc surtout à l'anticipation et l'observation. A ce niveau-là, les aficionados des plans machiavéliques pour exterminer l'ennemi vont pouvoir s'en donner à cœur joie. D'ailleurs, entre les phases d'aventure, de découverte, et les phases de combat, l'écran de jeu change, toujours en 3D isométrique, mais on passe automatiquement en écran de combat, c'est à dire par exemple entre les murs d'une ville. Et quand les belligérants en ont finis d'en découdre, on revient à l'écran de base. En gros, ça sent fort Heroes of Might & Magic… un peu trop. Car malheureusement, Age Of Wonders ne propose concrètement rien de neuf, grosse frustration tout de même. Certes le jeu est bon, mais tant qu'à faire, autant jouer au jeu plagié, plus beau et mieux réalisé.
En effet, Age of Wonders ne propose pas de graphismes réellement jolis, de plus, les personnages et bâtiments sont bien trop petits pour être attractifs. Ceux qui portent des lunettes vont se bouffer les yeux ! :o) Bon, ok j'exagère, mais il faut quand même faire un gros effort sensoriel, désagréable.
Quoi qu'il en soit, intrinsèquement, Age Of Wonders est un très bon jeu, à reserver plutôt aux inhabitués puisque ceux qui ont passés de grandes heures sur Heroes of Might & Magic s'ennuiront probablement. Achat à méditer, donc, considérez votre position de joueurs et faites votre choix, qui sera de toute façon le bon, car ce sera le VOTRE ! :o)