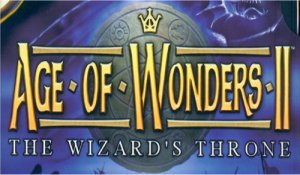 Car l'objectif dans Age of Wonders II, c'est bien evidemment de régner sur le monde, d'une manière plus ou moins vile selon votre état psychologique personnel et que vous ayez ou non des tendances agressives psychotiques peu ou prou refoulées. Quelle entrée en matière ! AOW2 (pour les intimes) est donc un jeu de gestion tactique au tour par tour, pour ceux qui ne connaîtraient pas, qui vous met dans la peau d'un mage, à la tête d'un royaume en pleine expansion. Enfin, pour l'expansion c'est de vous que cela dépendra. Je vous passe le cadrage scénaristique, qui sans être mauvais, relève de ce que l'on fait de plus classique dans le genre Heroïc Fantasy. Y'a des gentils qui veulent empêcher des méchants de faire régner les tenèbres. C'est très manichéen. Et oui, dans un tel univers, la neutralité suisse serait des plus mal vues. J'en viens donc au jeu.

Le truculent éditeur de map.
Vous incarnez un mage, ça je l'ai dit. A vous de conquérir quelques villes et lieux stratégiques afin de gagner un peu d'influence et de ressources. Ces ressources vous serviront ensuite à produire soit des troupes, soit des unités (genre catapultes). Pensez aussi à augmenter votre mana et à apprendre des incantations, ça peut servir. Une fois que tout cela est plus ou moins en place on passe à la suite et là attention je sens que je vais créer la surprise... on part en campagne. C'est parti pour quelques rixes avec diverses troupes, soit indépendantes, soit sous le contrôle de mages adverses. Et vas-y que ça guerroie dans tous les sens à grand renfort d'archers, de chevaliers ou de créatures magiques. L'aspect diplomatique est bien sûr présent dans le jeu et libre à vous de créer quelques alliances utiles où au contraire de déclarer franchement la guerre à un type dont la tête ne vous revient pas. Côté gestion des ressources et des productions, l'interface d'AOW2 est d'une grande clarté, ce que l'on appréciera fortement. Il en est d'ailleurs de même pour les combats, on s'y retrouve très vite (et si les combats ne vous tentent pas il est toujours possible de les confier au CPU et de les zapper).

Des effets pyrotechniques convaincants.
En parlant de combat, ceux-ci font preuve d'un aspect stratégique qui ravira les plus pernicieux d'entre vous. Tour par Tour oblige, l'observation et l'anticipation sont de rigueur pour ne pas se faire pièger, où mieux, pour piéger soi-même, en plaçant ses troupes ou en produisant des unités qui devront être prêtes à point nommé. Mais chaque médaille a son revers. C'est sans doute le plus gros défaut du jeu, même si certains n'en seront peut-être pas gènés. L'écoulement du temps avec ce système est ici d'une lenteur effroyable. Après plusieurs heures de jeu en mode scénario, on se rend compte qu'on a quasiment pas avancé. Autant vous dire que si vous êtes contraints à quelques replis stratégiques, l'impatience pointe le bout de son nez. Et si le jeu est déjà lent en solo, imaginez en multijoueur ! Une partie vous tiendra en haleine une dizaine d'heures ! Idem en mode Campagne où se sont surtout les déplacements qui prendront un temps fou. C'est un bon point diront les uns. Peut-être, au moins, question durée de vie le soft assure. Ceci dit, une certaine lassitude se fait sentir au bout d'un moment. Un autre regret au sujet des combats, il est impossible de choisir des formations spécifiques pour votre armée. Cela signifie en clair qu'une fois lancée, elle se jettent sur tout ce qui bouge sans aucune finesse.
Côté réalisation, AOW2 n'a vraiment pas à se plaindre, il a été gaté par Dame Nature. Graphiquement c'est joli avec des animations très sympa et quelques effets spéciaux pas vilains du tout. L'ensemble graphique se montre très fin et très fluide et ce, sans nécéssiter une configuration de nanti. La bande son n'est pas en reste avec des musiques qui nous plongent bien dans l'ambiance et des effets qui sans être extraordinaires n'en sont pas moins réussis.
Un autre bon point pour le titre de Triumph, la présence d'un éditeur de map. Déjà en soi, on apprécie mais en plus il est d'une simplicité d'utilisation déconcertante. Vous choisissez la taille de votre carte et vous collez les différents éléments à disposition. Ceux-ci sont assez nombreux et les possibilités sont, en toute logique, variées. Un éditeur simple et convivial, ça change.
Et bien, il est plutôt pas mal ce jeu. Bon il me reste à vous dire que c'est un clone de Heroes of Might and Magic et qu'il ne révolutionne pas le genre. Dommage aussi que le temps passe tellement lentement, cela a tendance à provoquer un certain ennui. Mais il n'empêche qu'il est accrocheur ce AOW2, très accrocheur même, et doté de surcroît d'une très bonne réalisation. Alors ne boudons pas notre plaisir, « s'il vous plaît, je vous en prie »
Une petite note, il semble que le jeu soit actuellement commercialisé avec un CD Bonus contenant 2 scénarios supplémentaires ainsi que quelques démos de jeux (Stronghold, Tropico et 4X4 Evo 2).