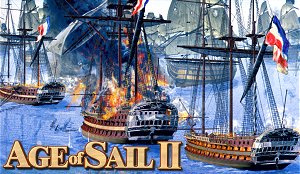 Pas complètement satisfaits de leur première mouture d'Age of Sail, les concepteurs du jeu ont dû patienter longtemps avant de se sentir en mesure de donner vie au véritable projet qu'ils avaient imaginé. Profitant de la technologie actuelle, Age of Sail 2 doit être considéré comme une véritable reconstitution de toute la période de l'histoire qui vit s'affronter les vaisseaux de guerre d'une dizaine de nations. Reprenant la période mouvementée des dernières années du 18ème siècle jusqu'à l'aube du 19ème, Age of Sail 2 propose une centaine de scénarios historiques parfaitement documentés, un vaste choix de campagnes permettant de créer sa propre flotte de combat, et un mode multijoueur en ligne.

Plongez-vous dans l'enfer des combats navals.
Véritable simulation de combats navals en temps réel, le jeu prend place dans des environnements réalistes intégralement en 3D, qui seront le théâtre d'affrontements maritimes faisant intervenir parfois une quarantaine de vaisseaux. Les trois-mâts évoluent au gré du vent de façon très crédible, profitant d'animations parfaitement décomposées et d'un niveau de détail tel, que l'on aperçoit l'équipage s'affairer sur le pont. La dimension stratégique est très poussée, mais ne demande pas cependant une parfaite connaissance du milieu naval du 18ème. L'interface se présente sous forme d'icônes permettant d'accéder facilement à toutes les formations de combat. De plus, la gestion des vues est parfaite et permet aussi bien un point de vue éloigné que très proche des vaisseaux, et la caméra bouge rapidement.

La modélisation des bâtiments est particulièrement soignée...
Plus qu'un simple jeu, Age Of Sail 2 s'adresse à tous les passionnés de la discipline, collectionneurs de maquettes ou spécialistes de cette période mouvementée de l'histoire, et constitue un soft perfectionniste, qui reprend tout le contexte historique de l'époque sans le moindre anachronisme. Mais le soft d'Akella n'en est pas moins un jeu superbe graphiquement, et qui bénéficie d'un gameplay impeccable. Force est de constater que la prise en main est tout de même assez ardue, et les novices auront du mal à s'immerger d'entrée de jeu dans la partie. Les plus doués se verront monter en grade et pourront rapidement prendre le commandement de flottes de plus en plus puissantes.

... celle des villages côtiers n'a pas été négligée non plus.
L'IA prend en compte tellement de paramètres différents que le gameplay devient rapidement assez complexe. Les conditions de victoire dépendront de votre capacité à réagir rapidement, à savoir vous entourer d'un équipage efficace, donner les ordres au moment le plus opportun et manoeuvrer de façon tactique. A cela viendront s'ajouter un grand nombre de facteurs déterminants : la force du vent, les pertes humaines, les dégâts reçus, la gestion des munitions et les abordages. Dès lors, les affrontements deviennent particulièrement stressants, et l'on se prend à vouloir faire triompher sa flotte pour réécrire une page de l'histoire.

Une interface pas si complexe que ça.
Avec une telle profondeur de jeu, il est dommage que Age of Sail 2 n'ait pas bénéficié de davantage de soin au niveau de la modélisation de la surface de l'eau. Les vagues sont ridiculement petites et les coups de canons pas tellement impressionnants. On regrettera également l'absence d'éditeur de niveaux ou de vaisseaux, ce qui oblige le joueur solo à se limiter aux scénarios, puis aux campagnes, qui offrent une richesse de jeu encore plus approfondie. Ce titre est donc à réserver aux véritables passionnés, attirés par le contexte historique et la stratégie. Les autres risquent de trouver Age of Sail 2 pas suffisamment accessible.