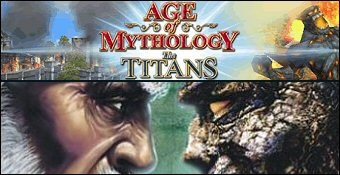 Avant toute chose, commençons par ce qui intéressera le plus les fans, à savoir les nouveautés de ce AoM : The Titans par rapport au premier opus. Et bien, oui on ne peut pas vraiment dire que Microsoft se soit vraiment foulé. Vous n'aurez en effet droit qu'à une campagne supplémentaire ainsi que la possibilité d'incarner une nouvelle civilisation à savoir celle des Atlantes. Pour le reste vous retrouverez bien sûr les peuplades qui étaient déjà mises en vedette dans AoM comme les Grecs, Egyptiens, les Scandinaves, etc. Si on peut être un peu déçu part ce manque de nouveautés, il faut tout de même voir que la campagne supplémentaire est difficile à finir. Le scénario est ainsi découpé en chapitres et à mon niveau dès le troisième épisode, j'ai eu pas mal de problèmes, vos ennemis étant plus nombreux et beaucoup plus agressifs.

Le tout est charmant mais le jeu ne brille pas vraiment en termes de qualité graphique par rapport à AoM.
En sus de cette nouvelle campagne, la civilisation Atlante devrait normalement vous enchanter de part l'apparition de nouvelles troupes et surtout de nouveaux pouvoirs ou divinités encore plus impressionnants. On note également quelques spécificités bien sympathiques. Par exemple, quand un Atlante ira chercher des ressources naturelles (bois, or, nourriture), il n'aura pas besoin de revenir au village pour emmagasiner ce qu'il a trouvé. Et non tout ceci se fera automatiquement et vous n'imaginez pas le temps que vous allez gagner, mais je n'apprends rien à ceux et celles qui ont passé des heures sur Ages Of Empires II et Age Of Mythology. D'un point de vue militaire on note qu'il est également possible « d'upgrader » vos soldats en Héros. Ensuite arrivé à l'Age Mythique, vous pourrez de plus créer un Titan qui disposera d'une force inouïe et qui sera un allié bien précieux pour remporter les batailles, mais inutile de préciser qu'il faudra beaucoup de temps, et de ressources pour avoir cet atout dans votre jeu !

Difficile parfois de faire un choix entre la construction de bâtiments et d'unités, surtout quand le temps est un luxe.
Graphiquement c'est toujours aussi beau. On ne cesse de s'émerveiller devant les pouvoirs tous plus sublimes les uns que les autres. Personnellement j'ai une petite préférence pour la pluie de météores ou l'invocation de vos ancêtres. Bien sûr quand on s'attarde sur les cinématiques du jeu où l'on peut voir les personnages de près il y a à redire, mais dans le jeu c'est vraiment grandiose. D'autant que tout participe à ce que vous rentriez avec aisance dans le jeu : les conditions climatiques changeantes, les éclipses de soleil, l'animation des soldats, animaux, les musiques douces et limpides... Pour ma part j'ai complètement été conquis et l'immersion dans le jeu s'est faite de matière très naturelle. De plus, il est toujours très plaisant d'assister à des combats où les ennemis valdinguent à des kilomètres, où vos adversaires se font brûler, écraser, empaler. Il n'y a pas à dire, la mythologie, c'est quelque chose.
A l'image de l'aspect graphique qui n'a pas réellement bougé, le gameplay n'innove pas et se veut donc toujours aussi impeccable. Si vous avez déjà croisé un épisode de la série des Age, vous n'aurez absolument aucun temps d'adaptation. D'un simple click vous pourrez construire vos bâtiments, la gestion des unités est extrêmement simple et le plus dur sera toujours de prendre les bonnes décisions au bon moment et de se montrer très rapide pour construire vos unités et défendre votre peuple en même temps.
Dans l'absolu, AoM : The Titans pourra être considéré comme une simple extension de AoM. Et en effet, si on survole le peu de nouveautés ce sera effectivement le cas. Par contre si on prend son temps on se rendra compte que les Atlantes, en tant que nouvelle civilisation, apporte son lot de nouveautés et que la campagne supplémentaire est suffisamment ardue (comptez entre 15 et 20 heures pour la terminer) pour que vous ressortiez AoM de sa boîte. The Titans est en définitive un add-on peu épais mais bon dieu quel plaisir quand on y joue !!