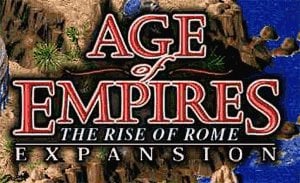 Age Of Empires: The Rise Of Rome est donc un add-on, ce qui veut dire que vous devez posséder Age Of Empires pour y jouer. Comme son nom le sous-entend il va vous permettre de suivre la naissance de Rome à travers de nouvelles campagnes.
L'aventure commence en l'an 10000 avant JC, et prend place bien entendu dans ce qui deviendra l'Italie quelques milliers d'années plus tard... 4 nouvelles civilisations sont en fait utilisables : Carthage, Palmyre, la Macédoine et bien entendu la civilisation Romaine.
L'Eléphant est surement la nouvelle unité la plus impressionnante et la plus marrante! A part lui quelques unités inédites sont utilisables comme les médecins, en fait des prêtres avec des capacités médicales améliorés. On note aussi l'apparition de nouveaux batîments.
Côté moteur, pas grand chose de nouveau. Age Of Empire reste un jeu de stratégie temps réel très correct, même s'il ne m'a personnellement jamais passionné. Quelques petites innovations montrent tout de même le bout de leur nez, comme la possibilité de chaîner la construction d'unités (il est maintenant possible d'en construire 5 à la suite, comme dans Starcraft). Les dessins quand à eux restent dans le style du jeu original, extrèmement fins et bien animés (on peut jouer jusqu'en 1024x768), même s'ils manquent un petit peu de caractère à mon avis.
Bref Age Of Empires : Rise Of Rome redonne un peu de souffle à Age Of Empires, mais on peut regretter un prix pour le moins excessif (249F, soit presque autant que le jeu complet), pour un simple ajout de missions... Cependant Age Of Empires étant déjà un bon jeu, et The Rise Of Rome ne fait que le rendre encore un peu meilleur, en attendant Age Of Empire 2, prévu pour l'été 99 !