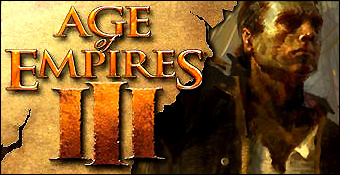 Le dernier soft d'Ensemble Studios vous met aux commandes de l'une des grandes puissances européennes de l'époque, déterminée à coloniser le Nouveau Monde. Huit civilisations jouables, ayant chacune leurs spécificités, s'offrent à nous : les britanniques, les espagnols, les portugais, les allemands, les russes, les ottomans, les néerlandais et les français. Petit regret, les amérindiens ne constituent pas un camp à part entière, mais plutôt des sortes de renforts disponibles dans la plupart des missions. Pour s'octroyer l'aide de ces tribus, c'est très simple. Il suffit de localiser leurs villages sur la carte et d'y construire un comptoir. La population sera alors acquise à votre cause et vous pourrez créer des unités indiennes, comme vous créez vos propres archers ou troupes d'infanterie. Bien évidemment, si votre adversaire construit son propre comptoir à la place du vôtre, c'est lui qui bénéficiera de l'aide des villageois. Des unités bon marché qui peuvent apporter une aide substantielle pendant les batailles, cela ne se refuse pas et les villages amérindiens deviennent vite des points stratégiques à capturer, surtout en multijoueur. D'autant que les indigènes ne sont pas comptabilisés dans votre population qui, comme dans les précédents titres de la série, est limitée à 200 unités. Un intérêt supplémentaire pour s'en emparer.

Les graphismes sont de toute beauté.
Autre nouveauté d'Age of Empires 3 et autre point stratégique devenant vite l'objet de toutes les convoitises : les routes commerciales. Si vous construisez des comptoirs aux endroits prévus à cet effet, cela vous donne droit à de petits bonus très appréciables qui s'accumulent au fil du temps : ressources supplémentaire et gain d'expérience. Plus que jamais, le jeu vous pousse à explorer la carte dès le début des parties pour trouver les fameux villages amérindiens et les routes commerciales. Et ce n'est pas tout, car des trésors sont aussi disséminés dans les niveaux. Qui cracherait sur quelques pièces d'or en plus ou sur un stock de nourriture ? Pas question donc de construire sa base et de rester bien tranquillement dans son coin : la victoire est plus que jamais conditionnée par l'exploration des lieux et la découverte des bonus qui s'y trouvent.

Votre métropole peut vous envoyer des renforts si vous le demandez.
Age of Empires 3 est également marqué par l'apparition des métropoles. En effet, même si l'action se déroule intégralement en Amérique, votre pays, situé à plusieurs milliers de kilomètres de là, en Europe, profite de vos conquêtes et évolue. A tout moment, vous pouvez visiter votre métropole et la personnaliser en vous servant de l'expérience et des richesses accumulées jusque là. Vous pourrez par exemple ajouter des lampadaires, des fanions ou même modifier l'apparence des bâtiments. Périodiquement, vous aurez aussi le droit de déverrouiller de nouvelles technologies. Il faudra alors choisir la direction dans laquelle vous souhaitez évoluer. Améliorerez-vous vos navires de guerre ? Vos troupes de cavalerie ? Vos alliances avec les indigènes ? Votre artillerie ? La récolte des ressources ? Attention, car les choix que vous faites se répercutent sur le long terme. En effet, la métropole vous suit, et évolue avec vous au fil des parties aussi bien pendant la campagne solo qu'en escarmouche ou même en multijoueur. Plus vous jouez et plus votre métropole gagne en puissance. Vous allez voir tout de suite son utilité car outre le fait de vous permettre de progresser technologiquement, elle peut aussi vous envoyer des renforts sur le champ de bataille. Pendant les parties vous pouvez en effet vous rendre dans votre métropole et demander des unités supplémentaires qui vous seront envoyées illico presto : archers, infanterie, artillerie... Cet apport de troupes fraîches peut vite devenir déterminant dans l'issue des batailles.

Admirez les débris qui se dispersent lorsqu'on touche un bâtiment.
Et des batailles, vous allez en livrer au sein de la campagne solo, assez longue soit dit en passant. Seul problème, on ne peut pas dire qu'elle soit passionnante. En effet, les missions se suivent et se ressemblent. Un peu plus de variété aurait été bienvenue, d'autant que contrairement à certains STR qui nous laissent choisir les missions que l'on veut effectuer, dans Age of Empires 3, tout est très linéaire. Les niveaux s'enchaînent "à l'ancienne" sans que l'on n'ait véritablement de choix à faire sur le déroulement de l'aventure. Bref, au bout de quelques heures, la lassitude peut éventuellement gagne le joueur. Heureusement, les modes escarmouche et multijoueur sont là pour varier les plaisirs. Ceux-ci permettent à huit joueurs (contrôlés par des humains où par l'IA) de s'affronter sur une flopée de cartes aléatoires. On choisit le type de niveau que l'on souhaite, par exemple de grandes plaines ou une carte composée de plusieurs îles, et le jeu génère automatiquement une map. Deux types de parties sont possibles mais il s'agit hélas toujours de tuer ses ennemis. En fait, la variante se situe au niveau des ressources que l'on a au départ. Dans le mode suprématie, vous disposez de ressources assez faibles et il faudra donc prendre le temps d'en récolter pour bâtir votre base et vous constituer une armée digne de ce nom. En deathmatch en revanche, vous avez dès le début d'importantes quantités de bois, de nourriture et d'or ce qui vous permettra de fonder votre colonie très rapidement. Idéal pour jouer des parties plus brèves et pour se lancer directement dans la bataille sans avoir une longue phase de récolte.

Ce village amérindien est désormais à moi : j'ai accès à de nouvelles unités.
L'absence de modes plus variés, pourtant présents dans nombre de STR modernes, comme le désormais classique "Domination" consistant à s'emparer de points précis sur la carte et à les conserver, se fait cruellement sentir. Autre regret concernant l'escarmouche et le multi en général, il n'est pas possible de former plus de deux équipes. En fait, soit on joue chacun pour soi, soit on forme deux équipes. Impossible donc de faire s'affronter trois équipes de deux joueurs par exemple. Dommage. Dernier point sur lequel on ne peut qu'être un peu déçu : il n'y a pas d'anti-rush. Dans d'autres jeux de stratégie, il est possible de définir pendant combien de temps on souhaite faire entrer en vigueur un cessez-le-feu. Ainsi, cela laisse le temps à chacun de construire quelques bâtiments et d'avoir une ébauche d'armée avant d'avoir à se battre contre d'éventuels assaillants. Dans Age of Empires 3, c'est impossible et il est donc conseillé de bâtir en priorité un bâtiment militaire et de créer quelques unités d'infanterie pour faire face à un joueur qui aurait l'envie d'attaquer votre base dès le début de la partie. Heureusement, la métropole donne la possibilité de demander des renforts militaires ce qui permet de limiter l'impact des rushs, mais une option de cessez-le-feu n'aurait quand même pas été superfétatoire.

Un éditeur de cartes très complet est présent.
Côté graphismes en revanche, on a du mal à trouver quelque chose à redire. Age of Empires 3 utilise les technologies les plus récentes pour nous en mettre plein les yeux et on peut dire que c'est réussi, tant au niveau des couleurs, riches et chaleureuses, qu'au niveau de la topographie utilisant le "Tone Mapping", un procédé venu de la photographie. Un autre outil, celui-là spécialement mis au point par les développeurs, permet de traiter de façon efficace les effets d'ombres et de lumières. Son nom est un peu barbare, il s'agit de l'HDRI (High Dynamic Range Imaging). Grâce à lui, les ombres des unités varient en fonction de la position du soleil et peuvent même se superposer. Les surfaces aquatiques ont bénéficié d'un traitement particulier et cela se voit : l'eau est superbe. Les décors, les unités et la lumière du soleil s'y reflètent parfaitement. Tout cela a cependant un prix : le jeu est très gourmand en ressources. Un PC très puissant est donc nécessaire si on veut profiter des détails maximum, surtout lorsqu'il s'agit de jouer à 8 en multijoueurs. Un processeur cadencé à plus de 3 GHz secondé par 2 Go de RAM et par une carte graphique Geforce 6800 ou ATI X800 ne sont alors pas de trop pour supporter la débauche d'effets d'ombres et de lumières des batailles faisant entrer en scène des dizaines d'unités simultanément.

Les batailles navales sont l'un des aspects les plus spectaculaires du jeu.
Plus que le moteur graphique, c'est le moteur physique qui surprend. Pas étonnant puisque celui-ci n'est ni plus ni moins que le fameux Havok, moteur qui gère, entre autres, la physique du FPS Half-Life 2. Le résultat dans Age of Empires 3 est assez bluffant. C'est l'une des premières fois que l'on voit dans un jeu de stratégie une gestion localisée des dégâts. Ainsi, si des flèches enflammées touchent les voiles d'un moulin à vent, celles-ci vont prendre feu et le moulin en question va s'arrêter de tourner. Les bâtiments et les navires peuvent être détruits de plusieurs manières selon l'endroit touché. On peut par exemple voir une toiture s'effondrer après que l'artillerie l'ait touchée ou des débris de murs tomber au sol après une attaque. Les unités ne sont pas en reste puisque lorsqu'on tire un boulet de canon sur les troupes adverses, les corps sont projetés à plusieurs mètres du point d'impact. Une touche de réalisme appréciable effaçant la désagréable sensation d'assister à la répétition d'une simple animation. Au final, Age of Empires 3 surprend vraiment par certains de ses aspects. Il aurait même pu prétendre au titre de jeu parfait si sa campagne solo avait été plus dynamique et si il ne manquait pas quelques options en escarmouche et en multijoueur. Il demeure cependant un titre à ne pas manquer de par le plaisir qu'il sait malgré tout nous procurer.