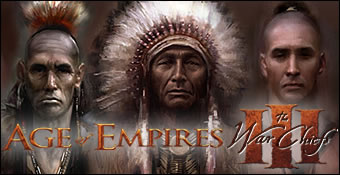 C'est la grande nouveauté de cet add-on, celle qu'attendaient tous les fans : l'apparition de trois nouvelles civilisations jouables. A l'inverse du titre d'origine dans lequel on ne contrôlait que des factions européennes, The WarChiefs se concentre lui sur les amérindiens et propose au joueur de présider à la destinée des Aztèques, des Iroquois et des Sioux. La nouvelle campagne solo, divisée en deux actes, fait intervenir les deux derniers peuples (les Aztèques n'étant jouables qu'en escarmouche et en multi hélas). La quinzaine de missions fait d'ailleurs très souvent appel à des alliances entre Iroquois et Sioux avec des unités européennes.

Les Aztèques et leur chef de guerre en action.
Ces trois nouvelles civilisations disposent d'un tout nouveau bâtiment inédit : le feu de camp. Il vous permet de choisir un bonus qui s'appliquera de manière permanente. Pour cela, il faut néanmoins que vous affectiez un certain nombre de villageois pour danser autour du feu. Les personnes que vous choisirez ne pourront rien faire d'autre et ne pourront donc pas amasser des ressources. Il faudra alors rapidement faire un choix entre une récolte de nourriture, bois et or plus rapide offerte par l'affectation de nombreux ouvriers à cette activité, ou alors le bonus que vous pourrez gagner si vous demandez préférez danser autour du feu. Les bonus sont de plusieurs ordres : il peut s'agir d'accélérer la production d'unités, d'augmenter les dégâts infligés par vos troupes... Il est évidemment possible de changer à tout moment le bonus que vous souhaitez appliquer.

Le fameux feu de camp qui vous donne un bonus si vous y faites danser quelques villageois.
Chacun des trois nouveaux peuples a ses spécificités et ne se destine pas du tout au même type de joueur. La civilisation aztèque s'appuie par exemple sur son infanterie très puissante, alors que les Sioux ont orienté leur développement vers la cavalerie, ce qui leur permet de procéder à des attaques rapides. C'est leur point fort : la grande mobilité de leur armée. Pour ce qui est des Iroquois, c'est tout l'inverse. Beaucoup plus lents, ils disposent cependant d'armements de siège (inspirés de ceux des européens) ce qui leur permet d'envisager avec sérénité des assauts puissants, mais peu mobiles, il faut bien l'avouer. Pour ce qui est des feux de camps, chaque peuple a aussi des bonus propres. Par exemple, lorsque les Aztèques peuvent générer des chevaliers Crânes au fil du temps grâce à leur danse de l'alarme, les Sioux auront eux des soldats Chiens. Evidemment, plus les villageois sont nombreux autour du feu, et plus leur danse sera efficace et produira des unités rapidement.

Les cinématiques sont nombreuses pendant la campagne solo.
Les trois peuples amérindiens ont aussi droit à un chef de guerre (d'où le titre de cet add-on). Il s'agit en fait d'une unité spéciale puissante et très résistante qui peut construire des centres-villes et des comptoirs et dispose de pouvoirs particuliers. Par exemple, le chef de la tribu des Aztèques peut convertir les gardiens veillant sur les trésors pour qu'ils se battent à ses côtés. C'est autant d'unités gratuites de gagnées. Face au danger que constitue l'apparition de ces trois nouvelles civilisations, les "vieilles" factions européennes ont eu droit à quelques retouches salvatrices : nouvelles unités, apparition du saloon où l'on peut recruter des mercenaires (ninjas, fusiliers, elmetis et bombardes de Li'l). Mais le plus gros changement en ce qui concerne les européens, c'est la nouvelle possibilité d'évolution qui leur est permise : la révolution. Lorsque vous atteignez le quatrième âge, vous avez la possibilité de vous révolter. Si vous faites cela, tous vos villageois seront transformés en miliciens armés incapables d'amasser des ressources, mais prêts à se battre. Bref, vous renoncez à développer votre économie et vous faites le pari d'achever rapidement votre adversaire. Cette option peut s'avérer utile pour ceux qui souhaitent l'emporter rapidement mais elle est à double tranchant car si votre attaque échoue, vous ne serez pas en mesure d'aller très loin sans possibilité d'avoir plus d'or, de nourriture et de bois. Signalons pour terminer que quelques nouvelles cartes font leur apparition pour les modes escarmouche et multijoueur (Andes, Californie...). Au final, voilà une extension de bonne facture qui prolongera avec brio le plaisir que les fans ont pu prendre sur Age of Empires 3.