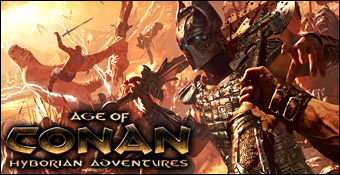 C'est en effet un univers que Conan n'a encore jamais foulé de ses sandales de cuir. Pourtant, il en a arpenté des terres : littérature bien sûr, puis comics, cinéma... Mais jusque-là, ses apparitions dans le domaine vidéoludique étaient restées cantonnées au beat'em all. Son arrivée dans le jeu de rôle en ligne se fait alors que le territoire est déjà conquis : entre l'ogre World of Warcraft d'un côté, et Le Seigneur des Anneaux Online de l'autre, le genre heroic-fantasy est déjà fort bien représenté. Age of Conan : Hyborian Adventures partage d'ailleurs beaucoup de points communs avec les deux titres précités. On y retrouve la plupart des mécanismes maintenant bien rodés des MMORPG. Il s'agit donc toujours de créer un personnage en choisissant sa faction, sa classe, puis de parcourir un vaste monde en accomplissant des quêtes pour des PNJ afin d'engranger de l'expérience, de gagner de nouveaux objets et des pouvoirs plus puissants. Bref, nous n'allons pas nous attarder sur ce tronc commun désormais classique, mais plutôt voir en détail quelles sont les spécificités d'Age of Conan, quelles sont les principales différences qui le démarquent de la concurrence et peuvent lui permettre de se faire une place au soleil.

Le roi Conan en personne.
Le premier point fort d'Age of Conan est évidemment l'univers d'Hyboria imaginé par Robert E. Howard. Il ne s'agit pas d'un univers de fantasy classique tel qu'on peut le voir chez Tolkien par exemple, mais plutôt d'un sous-genre communément appelé "sword and sorcery" par les anglo-saxons. N'espérez donc pas y voir de gentils elfes à grandes oreilles. Le monde de Conan est brutal, violent, sanglant. On y croise fréquemment de charmantes donzelles court vêtues, et il n'est pas rare d'y décapiter des ennemis grâce à des fatalités toutes plus gore les unes que les autres. Le raisiné viendra même parfois asperger l'écran dans une gerbe du plus bel effet. Bref, l'univers d'Age of Conan est adulte, à réserver à un public mature, ça change de l'aspect cartoon bon enfant de WoW. L'atmosphère insufflée par Howard à son oeuvre a donc été totalement respectée par Funcom, de même que le copieux background sorti de son esprit. Les joueurs retrouveront ainsi tous les lieux dépeints par l'écrivain, les peuples qui les habitent, les mythologies, les créatures... Tout y est retranscrit de manière parfaitement fidèle. L'histoire d'Age of Conan est positionnée vers la fin du cycle, alors que Conan en a fini avec sa vie d'aventurier vagabond. Il est désormais confortablement installé sur le trône d'Aquilonia. Mais son royaume est menacé de toutes parts : pictes, némédiens, stygiens... Nombreux sont les ennemis du roi, bien décidés à conquérir ses terres.

Les PNJ ont tous de nombreuses répliques. Bonjour vous.
Quelle est la place du personnage-joueur dans ce contexte ? Au début, pas grand-chose, il faut bien l'avouer. L'avatar (créé via un éditeur particulièrement complet) commence en tant qu'esclave sur une galère. Libéré de ses chaînes par un naufrage, il se retrouve sur l'île de Tortage. Cette zone va servir de gros didacticiel jusqu'au niveau 20 environ. Ce n'est qu'une fois la ville de Tortage libérée de son tyran que le personnage ira dans sa région d'origine, qui varie en fonction de son peuple (Aquilonien, Cimmérien ou Stygien). C'est un des premiers regrets qu'on peut avoir : contrairement à celui de World of Warcraft, le début d'Age of Conan est le même pour tous. Voilà qui n'incite pas vraiment au reroll (création d'un nouveau personnage). Mais il faut dire que cette longue introduction a été particulièrement peaufinée. Tous les PNJ parlent, ce qui représente une quantité impressionnante de répliques pour la plupart très bien doublées. Lorsque les protagonistes ont des quêtes à proposer, il y a même plusieurs possibilités de réponses, bien que les dialogues ne semblent pas vraiment avoir d'incidence sur le déroulement des missions. Ca a le mérite d'offrir une bonne immersion, même si le contenu des quêtes est finalement proche de la moyenne des autres jeux de rôle en ligne : facteur, collecte... Pas toujours passionnant. A l'instar d'un Guild Wars, il y a cependant une trame principale, dans laquelle le héros va devoir comprendre l'origine de la mystérieuse marque d'Achéron qui orne sa poitrine.

Le système de combat est un des principaux intérêts du titre.
Pour cela, il va bien sûr falloir pourfendre les nombreux ennemis qui ne manqueront pas de se présenter sur notre chemin. Ce qui nous amène directement au second point fort d'Age of Conan : son système de combat dynamique. Concrètement, voilà comment ça se passe. Vous pouvez choisir de porter vos coups de base dans trois directions : à gauche, à droite ou en face. Des icônes autour de votre adversaire indiquent quel est le côté le moins protégé. Il est également possible de parer un coup, et même d'esquiver. A cela s'ajoutent des combos, qui nécessitent de réaliser le bon enchaînement pour être déclenchées. Dans les faits, ça fonctionne très bien et confère effectivement aux affrontements un grand dynamisme. On peut également équiper son avatar de deux panoplies d'armes et basculer de l'une à l'autre à tout moment. Par exemple, avec un barbare, on peut utiliser une arme contondante à deux mains (comme une massue ou un marteau), mais aussi deux armes tranchantes légères (une épée dans chaque main). Par contre, cette classe ne peut pas utiliser de bouclier pour se protéger. Il y a un total de douze classes et donc autant de manières de jouer, du prêtre à l'assassin, du chaman au nécromancien. Chaque classe peut également se spécialiser grâce à un arbre d'aptitudes qui n'est pas sans rappeler les talents de WoW. Pour reprendre l'exemple du barbare, on pourra choisir de s'orienter plutôt vers la carrière de ravageur, ou opter pour celle de berserker.

En développant la compétence escalade, on peut grimper en haut de cette tour pour dérober un joyau.
Mais dans Age of Conan, notre héros n'est pas seulement capable de se battre. Il possède également des compétences variées dans lesquelles on répartit des points à sa convenance au fil de la montée en niveaux. Par exemple, il y a une compétence d'escalade, qui permet de grimper à certaines surfaces prédéfinies (échelles, lianes, parois rocheuses). Quand une quête vous demande d'aller chercher des plumes d'aigle dans un nid, un joyau en haut d'une tour, ou encore une peau de yéti au sommet d'une montagne, il faut avoir suffisamment de points d'escalade pour parvenir à l'endroit voulu. Dans le même registre, on trouve une compétence de furtivité, qui autorise des déplacements masqués dans l'ombre, à la barbe des ennemis. Là encore, on sent une volonté des développeurs de coller au plus près de l'oeuvre d'Howard. En effet, dans les nouvelles, Conan n'est pas qu'un barbare bourrin, il sait aussi se faire voleur discret ou assassin silencieux dans les ruelles sombres des cités qu'il arpente. On retrouve bien cet esprit dans Age of Conan grâce au système de compétences. Les artisans en herbe seront également ravis d'apprendre la présence de métiers, mais je ne saurais me prononcer vraiment à leur sujet, puisqu'ils ne sont accessibles qu'à partir du niveau 40 (sur un total de 80).

Ca en jette hein ?
Venons-en maintenant au troisième point fort du jeu, ses graphismes. Au fil de son développement, on nous a souvent vanté Age of Conan comme étant le plus beau MMORPG jamais conçu. Evidemment, l'appréciation de ce critère est fortement subjective, mais il faut bien avouer que le moteur 3D utilisé est impressionnant, avec notamment une distance d'affichage bluffante. Et encore, il ne s'agit pour l'instant que de la mouture DirectX 9, l'implémentation de la version 10 ayant récemment été repoussée à la fin de l'été. Toujours est-il que les personnages bénéficient déjà d'une modélisation et d'une animation très convaincantes. Mais, plus que l'aspect technique, c'est surtout le travail artistique réalisé sur les décors qui force l'admiration. Qu'il s'agisse des pics enneigés de Cimmérie, des tours scintillantes de Tarantia, des ruelles ocre du bazar de Khemi, les décors rivalisent de beauté. La découverte d'une nouvelle région apporte à chaque fois son lot d'émerveillements. Bref, Age of Conan est magnifique. Bien sûr, on pourra toujours lui reprocher quelques broutilles, comme certains sprites 2D de la végétation qui font pâle figure face à l'herbe du Seigneur des Anneaux Online, mais ça reste anecdotique. Non, les vrais défauts d'Age of Conan sont à chercher ailleurs.

Quelques problèmes de collision persistent.
Car malgré les trois points forts que nous venons de voir en détail, Age of Conan est loin d'être parfait. Par exemple, passée la zone de Tortage, les dialogues ne sont plus doublés. Plus grave, une bonne partie est restée en anglais... Une absence de traduction qu'on retrouve d'ailleurs souvent dans les descriptions d'objets ou de pouvoirs, et qui peut se révéler gênante. Le système d'instanciation fera aussi certainement beaucoup parler de lui. Sur chaque serveur, les joueurs ne sont pas regroupés mais répartis en plusieurs instances. Ca a des avantages, comme le fait de ne pas être trop nombreux à attendre qu'un boss réapparaisse. Mais ça a aussi des inconvénients, comme lorsqu'on se rend compte que les divers membres du groupe ne sont pas dans la même instance du monde... Ce découpage induit aussi de fréquents temps de chargement. Même une région comme la ville basse de Tortage, pourtant peu étendue, est subdivisée en quatre zones plus petites séparées par des transitions. Bien que ces chargements soient courts, ça fait mal quand on vient de World of Warcraft, où ils sont quasi inexistants. Le plus gros défaut reste cependant l'interface. Elle est bien personnalisable mais souffre tout de même de problèmes énervants : l'inventaire réparti sur plusieurs pages alors qu'il y aurait la place d'afficher plusieurs sacs côte-à-côte, la mini-carte mal fichue, sur laquelle on ne voit même pas les membres de son groupe, les fenêtres de récompense qu'il faut systématiquement déplacer pour pouvoir comparer avec l'équipement actuel... Bref, Age of Conan souffre de quelques erreurs de jeunesse, qu'on espère voir rapidement résolues par la suite. En tout cas, le jeu est d'une stabilité irréprochable, et n'a subit aucun plantage durant les dizaines d'heures où nous l'avons mis à l'épreuve, malgré ce que la catastrophique bêta ouverte laissait présager. Globablement, Age of Conan est donc un très bon titre, à conseiller à tous les blasés pour son univers et son gameplay rafraîchissants.