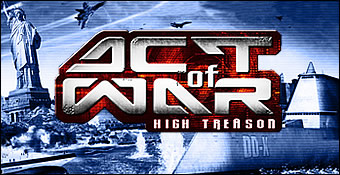 Je vais volontairement vous faire grâce du scénario qui navigue de toute manière dans les mêmes eaux troubles que Direct Action : sauvegarde des intérêts nationaux américains, piochant en cela dans la série 24 ou n'importe quel film de Bruckheimer, et effets feux de forêt propres aux conflits internationaux. Plongeons-nous d'entrée sur les changements autour des fondations du titre. Ce qui est intéressant c'est que, malgré le manque de reconnaissance grand public envers son travail, Eugen n'a pas vraiment fait de concessions. Act Of War reste un mix intelligent entre classicisme STR ultra, et une structure ouverte qui autorise des missions sans ressources, des sièges, des assauts, des parties de rush ou de longues campagnes guerrières, etc...

La passionante épopée des combats maritimes. Avec ce que j'ai, moi je vais toucher, et lui, il va couler.
High Treason préconise d'ailleurs le mouvement au moins autant que son aîné, à l'image des cinq premières missions où vous devez, entre autres, manier simultanément développement de base entre le ciment d'une ville militaire et siège de bâtiments municipaux, lesquels vous octroient de belles ressources financières. C'est d'ailleurs à partir de cette situation que l'aspect très scripté des premières joutes vous quitte pour ne vous reprendre que très ponctuellement. Un point appréciable, puisque Direct Action avait la mauvaise habitude de "raconter" le début de ses missions pendant 15-20 minutes avant de laisser enfin le joueur en roue libre. L'autre litige attendu par une majorité, c'était le pathfinding, bien que je n'ai jamais eu personnellement à redire sur celui de Direct Action. Je n'ai pas plus de raisons d'en vouloir à ce High Treason. Cet élément est de toute manière grandement clarifié par des cartes vastes, avec de larges passages là où il faut, des petites subtilités de trajectoires en nombre raisonnable et une disposition d'obstacles/barrières toujours bien pensée, qui permet d'utiliser pleinement le décor (et dieu sait qu'il le faut pour se faciliter la progression). Par contre, la caméra à son élévation maximum est parfois un peu trop en rase-mottes. Assez gênant car avec ses effets pyrotechniques et ses bâtiments plus imposants que la moyenne des STR, le plan large ne serait pas du luxe. Enfin, et pour conclure avec les améliorations sur le coeur du gameplay, peut-être l'essentiel pour la majorité d'entre-vous, les rapports de forces entre les unités ont été améliorés.
Pour les avions, c'est surtout le mode de contrôle beaucoup plus agréable, qui fait toute la différence par rapport à Direct Action, même si la puissance de feu a tout de même été revue à la hausse. Mais de manière générale, l'ensemble des anciennes unités a été poli pour de meilleurs rapports efficacité/prix. Je pense par exemple au Paladin qui justifie enfin son statut d'obusier par une vraie puissance d'artillerie et qui, me semble-t-il, a gagné en résistance.

Une bonne image du côté toujours aussi spectaculaire et explosif du titre.
A ces unités existantes se rajoute un "quatrième" camp : les mercenaires. La régie de ceux-ci est d'abord originale par sa gestion économique. En quelques sortes chasseurs de primes, ces hommes que vous devez engager par le biais d'un centre de recrutement, se font du beurre à leur manière. Vous devez juste subvenir à leurs besoins financiers naturels : d'abord par une assurance de risque assez forte, puis par leur entretien dés qu'ils sont sur le champ de bataille. Bien sûr vous récupérerez tout ou une partie de votre investissement initial selon l'état de votre groupe de mercenaires à la fin de la mission. Concrètement sur le terrain cela se traduit par une utilisation drastique, et donc assez fine, de ces Corto Maltese du futur. Leur apparition doit de surcroît être effectuée sur un terrain dégagé, puisqu'un hélicoptère Recon viendra d'abord automatiquement en reconnaissance. Si celui-ci est détruit durant son round d'observation, le lancement est annulé. Toutes ces précautions d'usage ont des conséquences sur les sensations de jeu : elles vous forcent à bien anticiper votre coup en développant une force régulière suffisamment puissante pour nettoyer les zones stratégiques, et amplifient insidieusement la puissance de ces 9 types de mercenaires, laquelle n'est pas usurpée puisque leur variété (infanterie, aviation, blindé,,,) n'a d'égale que leur efficacité. Si on ajoute à cela des coûts démesurés pour les meilleurs d'entre eux, que vous obtenez une pelletée d'upgrades, vous comprendrez qu'il s'agit de finisseurs dont l'utilisation est à réserver en fin de combat pour faire définitivement basculer la victoire de votre côté. En fait, cet élément peut être principalement perçu comme une mécanique de coup de grâce, la même que l'on peut rencontrer dans Age Of Empire avec les merveilles et Warcraft 3 et Sacrifice avec des sorts au plus haut niveau.

Non, ce n'est pas Air Force One mais presque quand même, hein...
A noter que le panel de mercenaires est le même pour n'importe quel camp, ce qui n'influe donc pas l'équilibre des parties à plusieurs, très bonnes au demeurant. Et venons-en donc à ce mode multi justement. On regrette d'entrée que, malgré la sortie du titre datée de plus d'une semaine, les serveurs de jeu ne soient pas très remplis. Difficile dans ces conditions de trouver une partie qui nous sied. Car en entrant dans le lobby online, on se rend compte à quel point High Treason demeure justement une extension multijoueurs très conséquente. Trois modes de jeu s'ajoutent au bon Deathmatch des familles. Marine One Abattu est sympathique en diable, du moins sur les premières parties. Deux camps s'affrontent pour le rapatriement du président des Etats-Unis au-delà de la limite du camp opposé. En gros, une sorte de rugby-STR, dont la nervosité frénétique et le niveau de roublardise nous rappellent justement Z et donc le premier jeu de Eugen, The Gladiators. Lanceur Scud est un peu moins palpitant. Cantonné aux armes conventionnelles, les adversaires doivent mettre la main sur un silo Scud au centre de la carte, lequel débloquera pour son libérateur l'utilisation des armes ultimes, de la bombe nucléaire à l'utilisation des satellites. Enfin, parlons de Navy qui introduit bien sûr les grands affrontements maritimes, sans doute l'élément le plus attendu autour de cet add-on. Et je dois bien reconnaître que les quelques parties multijoueurs disputées sur eau ont été un vrai bonheur de joueur. Grâce d'abord à une manipulation des navires assez cohérente sans être contraignante. Certes, vous allez sans doute pester contre la lenteur ou les nombreux bugs de collision de ces unités sur un élément aussi libre que liquide, mais les sensations s'avèrent finalement très bonnes et c'est une agréable sensation que d'arriver à mener sa barque (arf) avec une vingtaine de colosses marins. Très bonne idée également que d'avoir réservé la multi sélection aux volants se trouvant sur vos portes avions ou autour de vos croiseurs. Mais ce qui frappe et fait vraiment plaisir c'est qu'Eugen a déroulé un véritable front de guerre maritime : par le biais de vos porte-avions vous pourrez ainsi créer plusieurs unités amphibie. Cela complexifie encore davantage les affrontements navals. Bref, cet aspect n'a pas été avancé à la légère même si, c'est flagrant, les bugs de collision sont assez nombreux et vont nécessiter un patch si Eugen ne veut pas voir ce mode, pourtant si plaisant, être boudé par les joueurs. D'ailleurs, il faut aussi déplorer quelques lags et autres lenteurs de démarrage de parties. Tout cela traduit un léger manque d'optimisation, pas déplorable mais tout de même gênant.