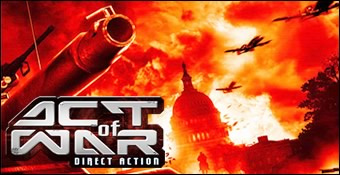 Et c'est bien le scénario du jeu qu'Eugen Systems a voulu soigner en premier lieu. En effet, on remarque immédiatement que la plupart des cinématiques sont constituées de séquences filmées avec de véritables acteurs. D'ailleurs, le nombre de vidéos est réellement impressionnant, si bien que le jeu tient sur un DVD-ROM double couche. Le risque, lorsqu'on choisit ce mode de narration, c'est évidemment que les doubleurs de la VF soient totalement à côté de la plaque. Heureusement, ce défaut a été évité et on constate avec grand plaisir que les comédiens qui se sont chargés du doublage sont tout à fait dans le ton. Ouf ! Toutes ces cinématiques sont au service d'un scénario qui fleure bon (hum, hum...) le patriotisme américain. En fait, le jeu a beau être développé par des français, l'histoire a été écrite par Dale Brown, un auteur américain à succès de technothrillers.

Le moteur 3D est plutôt efficace.
Attention, je n'ai pas dit que l'histoire était mauvaise, bien au contraire, elle réserve de nombreux rebondissements, mais je regrette juste que dans l'immense majorité des jeux du genre ce sont les troupes américaines que l'on contrôle. Pourquoi ne retrouve t-on pas d'autres nations ? Pourquoi n'imagine t-on pas un conflit plus original entre grands blocs avec l'Amérique du Nord bien sûr, mais aussi l'Europe, l'Asie, l'Afrique, des unions entre certains camps, des trahisons... Dès lors qu'un conflit se déroule dans le futur, il y a vraiment de quoi faire pour surprendre un peu le joueur parce que le couplet des Etats-Unis garants de la stabilité du monde, merci on connaît ! Mais bon, voyons de quoi il retourne dans Act of War. En fait, l'élément qui met le feu aux poudres, c'est le prix du pétrole. Dans un avenir proche, celui-ci connaît une augmentation phénoménale. Deux raisons à cela : la baisse de la production mais aussi les attaques terroristes visant les compagnies pétrolières. La population des pays développés est proche de l'implosion et réclame des changements. Plus grave, des activistes se réveillent et menacent l'ordre établi.

On a beau dire, mais ça peut en faire des dégâts un char !
Et vous dans tout cela ? Et bien vous dirigez des unités de l'armée américaine et vous allez devoir agir aux quatre coins du monde pour empêcher que la situation ne dégénère et pour contrer les actions terroristes commanditées par un mystérieux Consortium (le Al-Qaida du moment en quelque sorte). Les missions qui vous seront confiées sont très variées et c'est là un des points forts du jeu : défense d'une ambassade, protection de personnalités, attaque de quartiers généraux ennemis... Pour mener à bien tout cela, vous disposez bien évidemment de nombreuses unités comme les chars M1A1Abrams, les hélicoptères AH64 Apache, les bombardiers B2, les chasseurs F15 Eagle, mais aussi des engins plus futuristes à la puissance de feu dévastatrice. Outre le contrôle des unités, le jeu vous permet aussi de construire votre base et de créer vos unités. On se rapproche donc plus d'un Command & Conquer Generals au niveau du gameplay que d'un Ground Control 2 dans lequel on ne gère ni de bases, ni de ressources.

Une base en construction.
Construire des bâtiments et de nouvelles unités n'est évidemment pas gratuit et il vous faudra pour cela disposer des fonds nécessaires. L'argent se gagne surtout en exploitant des nappes de pétrole. Pour cela, il faut construire un derrick à des endroits particuliers mais aussi une raffinerie. L'enjeu du mode multijoueur vous saute dès lors aux yeux : il faut arriver le premier sur les zones où le pétrole est exploitable et défendre chèrement ses installations pour se constituer un joli pactole et prendre le dessus sur l'ennemi. Celui qui maîtrise le plus de puits de pétrole verra en effet les dollars tomber plus rapidement dans son escarcelle ce qui lui permettra d'avoir une armée plus puissante. Hélas, le multi se résume au final à un simple deathmatch ou team deathmatch. Aucun autre mode tels que le CTF ou le King of the hill n'est disponible et c'est bien dommage ! En fait, le multijoueur n'a visiblement pas été la principale préoccupation des développeurs puisqu'on ne peut pas non plus paramétrer sa partie. On ne fait que choisir l'une des 17 cartes sur laquelle va se dérouler l'affrontement. On ne peut pas sélectionner le niveau des ressources de départ ou le nombre d'unités dont on va disposer au maximum. C'est aussi vraiment bête de ne pas avoir accès à un mode où on choisit ses unités au début de la partie et où on doit faire avec, sans gestion de ressources ni possibilités de construction. Il y avait vraiment de quoi enrichir le mode multijoueur d'Act of War qui en l'état, s'avère vraiment trop pauvre.

Vous pouvez contrôler des unités futuristes.
Heureusement, de très bonnes idées sont présentes dans le jeu. Hormis sa très bonne campagne solo, on remarque que le gameplay permet de petites choses très sympathiques comme la capture d'unités ennemies, nettement plus rentable que leur simple anéantissement. En effet, hormis le fait qu'elles rapportent un peu d'argent, elles peuvent aussi être interrogées ce qui vous donnera la possibilité de dévoiler une partie de la carte pendant 10 secondes. Un avantage qui peut être décisif. Côté réalisation, le jeu n'a pas à rougir puisque le moteur 3D est capable d'afficher de très jolies choses pour peu que vous ayez la configuration adéquate. Les batailles donnent souvent lieu à un déluge d'effets. Hélas, tout cela peut conduire à ce que l'ensemble devienne un peu confus si bien qu'on a un peu de mal à voir qui fait quoi pendant les affrontements massifs. Une pause active n'aurait pas été de trop pour permettre au joueur de planifier plus sereinement sa stratégie. Toujours est-il qu'Act of War est tout de même un très bon jeu de stratégie qui aurait même pu être un gros hit si son mode multijoueur avait été plus soigné.