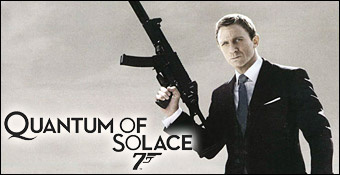 Casino Royale aura marqué une étape charnière dans la carrière cinématographique de James Bond. Faisant table rase du passé, optant pour un Bond plus humain, plus "couillu", confronté à de vrais choix personnels, l'agent 007 aura réussi son retour sous les traits d'un Daniel Craig magistral d'un bout à l'autre de la bobine. Logiquement, Quantum of Solace suit cette voie en faisant rentrer de plain pied l'agent de sa majesté dans une toute nouvelle période de son existence. Ce revirement à 180° aura donc totalement réussi à la création de Ian Fleming. Mais alors que les spectateurs savouraient cette relecture du mythe, les joueurs, eux, se sentaient quelque peu orphelins. Il faut en effet comprendre qu'entre le moment où Activision a récupéré la licence James Bond et la sortie de 007 Quantum of Solace, il se sera écoulé un peu plus de deux ans. Mais qu'à cela ne tienne, le Bond nouveau est là et bien là. Le Walther PPK lustré et huilé, ne reste plus qu'à partir au combat avec tout le flegme qui vous caractérise.

La poursuite ouvrant Casino Royale donne lieu à deux chapitres dans Quantum of Solace.
En guise de debriefing, signalons d'entrée de jeu que si le jeu se titre Quantum of Solace, les 15 chapitres constituant l'aventure solo s'inspirent davantage de Casino Royale. De fait, on pourra trouver relativement maladroit ce choix d'autant que les films se mélangent et que l'ultime niveau renvoie à la fin de Quantum of Solace. Du coup, l'histoire pourra sembler légèrement fouillie si vous n'avez pas vu les deux dernières aventures de James sachant que la mise en scène peu inspirée n'aide pas vraiment le joueur à se sentir concerné. Toutefois, Treyarch a tout de même inclus les scènes les plus marquantes de Casino Royale, de la course-poursuite de départ à celle où James, empoisonné par Le Chiffre, doit rejoindre son Aston Martin afin de se soigner. Pourtant, malgré quelques exceptions, on constate vite que Quantum of Solace est un FPS aux mécaniques usées, ancré dans le passé. Loin d'être injouable, le jeu manque cependant de montée en puissance et accumule les bourdes. Ainsi, afin de dynamiser un peu leur jeu, les développeurs ont inclus quelques passages sensés apporter un peu d'originalité. On trouvera alors des piratages de portes, des séquences d'équilibristes ou des passages d'infiltrations. Malheureusement, c'est plutôt raté vu que dans un cas comme dans l'autre, le challenge est totalement absent et le tout n'apporte rien aux missions en elles-mêmes. Finalement, on se rattrapera alors sur les gunfights, bien nerveux en règle générale mais simplement basés sur une quantité phénoménale d'ennemis à abattre.

Les phases d'équilibre vous demanderont de maintenir un pointeur au centre d'une barre afin d'éviter que James ne chute.
Sur la question de l'action, Quantum of Solace ne s'en sort d'ailleurs pas trop mal. La maniabilité, hérité de CoD n'est pas mauvaise et les combats au corps-à-corps (réclamant une action contextuelle pour abattre votre ennemi) apportent un peu de fraîcheur. Pourtant, on est loin des empoignades musclées de La Mémoire Dans la Peau et comme notre santé baisse vite sous le feu ennemi, on évitera la plupart du temps de recourir à ces techniques. Quoiqu'il en soit, le jeu reste trop facile, du moins en Normal. Ceci est dû en grande partie au système de couverture. En somme, celui-ci est trop efficace vu que lorsque vous êtes en difficulté, vous n'aurez qu'à vous planquer derrière un élément du décor, attendre que votre vie remonte, viser un ennemi (ou un objet comme une bonbonne, un extincteur, un tableau électrique), puis lui tirer dessus. Bien sûr, vos adversaires essaieront par moments de vous déborder mais ces assauts "stratégiques" restent rares et parfois franchement loupés, les ennemis fonçant directement sur vous. Bref, l'IA est des plus moyennes et on a vite fait d'enchaîner les chapitres. Comptez en gros sur 5 à 6 heures en Normal ou Hard, un peu plus en Difficile, surtout si vous désirez récupérer tous les téléphones portables présents dans le jeu afin d'obtenir des informations diverses.

Le système de couverture facilite grandement les gunfights.
Au bout du compte, le titre de Treyarch n'est pas un jeu à éviter comme la peste mais n'essaie jamais d'apporter un peu de sang neuf au genre. Cet état d'esprit se fait ressentir à presque tous les stades, du level-design longiligne à l'apparition des ennemis à la queuleuleu (pour peu que vous vous fassiez repérer) en passant par le gameplay efficace mais usé jusqu'au coude. Comme je le disais plus haut, vous aurez parfois l'occasion d'assister à un regain d'inventivité mais ici, on pourra aussi trouver à redire. En effet, comment ne pas s'offusquer de la durée réduite à moins de deux minutes du chapitre où vous devrez courir jusqu'à votre voiture alors que votre vue vous joue des tours ? En somme, la rejouabilité du soft n'a pas été le maître mot de Treyarch qui nous a tout de même concocté un multi pour 12 joueurs. Moins fun que celui du légendaire Goldeneye, on y trouve tout de même 7 modes de jeu dont le retour du fameux Pistolet d'Or. A part ça, on devra désamorcer des explosifs face à une armée ennemie dans Bond Contre, aider James à s'évader dans Evasion de Bond ou capturer un point de contrôle dans Contrôle de territoire. A ceci s'ajoutent un mode Classique, le Conflit (une simple mêlée) et un Conflit en équipes. Rien de particulier même si les parties sont agréables d'autant qu'on trouve déjà pas mal de monde sur les serveurs alors que le jeu vient juste de sortir. Enfin, pour terminer sur ce point, signalons la possibilité d'acheter des gadgets, accessoires et armes avec les crédits récoltés durant vos parties, afin de personnaliser votre équipement. Toutefois, cela ne suffit pas à Quantum of Solace pour s'imposer comme un FPS à conseiller coûte que coûte sur le support d'autant que les gros morceaux ne manquent pas en la matière. A essayer si vous êtes fan de l'agent double zéro mais de là à en faire votre bible...
Succès
Vivre et laisser mourir (20)
Neutralisez 50 ennemis.
Les diamants sont éternels (20)
Piratez toutes les serrures.
Rien que pour vos yeux (20)
Désactivez 10 caméras.
L'homme au pistolet d'or (20)
Tuez 50 ennemis en un seul tir chacun.
Affronter la pesanteur (15)
Demeure de White : ouvrez la porte de la cave en un seul tir.
Nous avons des gens partout (15)
Sienne : abattez les sept antennes satellite situées sur les toits.
L'opéra n'est pas pour tous (15)
Opéra : circulez dans les coulisses sans vous faire repérer par les gardes.
Il arrive à toute vitesse ! (15)
Gouffre : tuez le pilote de l'hélicoptère alors que les mitrailleurs sont encore en vie.
Je regrette la guerre froide (15)
Extérieur Musée des Sciences : tuez chaque tireur d'élite d'un seul tir.
Mi-moine, mi-tueur (15)
Intérieur Musée des Sciences : tirez sur toutes les lampes du grand hall.
ELLIPSIS (15)
À l'aéroport, sauvegardez les serveurs de Skyfleet sans vous faire repérer.
Je suis la banque (15)
Train : n'utilisez que le P99 à bord du train de marchandises.
N'importe quel voyou peut tuer (15)
Casino Royale : rendez-vous au spa en évitant les gardes et sans attaquer personne.
Ca me gratte (15)
Barge : sauvez Vesper en moins de deux minutes.
Permettez (15)
Venise : éliminez Gettler en un seul tir.
Un seul coup de feu suffit (15)
Eco Hotel : tuez le chauffeur de la voiture.
Le monde ne suffit pas (40)
Trouvez tous les téléphones portables.
Opération tonnerre (40)
Trouvez toutes les armes puissantes.
Permis de tuer (10)
Tuez un ennemi en une seule balle.
Octopussy (20)
Terminez le jeu en Recrue.
Demain ne meurt jamais (25)
Terminez le jeu en Agent de terrain.
On ne vit que deux fois (30)
Terminez le jeu en Agent.
Je m'appelle Bond, James Bond. (70)
Terminez le jeu en 007.
Dangereusement vôtre (15)
Terminez Demeure de White.
Bons baisers de Russie (15)
Terminez Sienne, Opéra et Gouffre.
Tuer n'est pas jouer (15)
Terminez Bidonville et Chantier de construction.
Au service secret de Sa Majesté (15)
Terminez Extérieur et Intérieur Musée des Sciences et Aéroport.
Casino Royale (15)
Terminez Train du Monténégro, Casino Royale et Empoisonnement.
L'espion qui m'aimait (15)
Terminez Barge et Venise.
Quantum of Solace (15)
Terminez Eco Hotel.
Je sais où est votre arme (20)
Débloquez et achetez toutes les armes.
Le compte est bon (15)
Débloquez et achetez tous les accessoires pour les armes.
Un siège éjectable, sans rire ? (20)
Débloquez et achetez tous les gadgets.
Goldfinger (25)
Débloquez et achetez toutes les armes d'or.
Chemin de fer (50)
Débloquez et achetez toutes les armes, les grenades, les accessoires, les gadgets et les armes d'or.
Vous en avez désamorcé des tas. (15)
Désamorcez une bombe en mode Contre Bond.
J'admire votre courage (15)
Gagnez plus de 1 000 crédits.
La vie est faite de petits défis (20)
Gagnez plus de 10 000 crédits.
Pour l'Angleterre, James ? (25)
Gagnez plus de 100 000 crédits.
Le meilleur joueur du service. (15)
Terminez premier d'une partie en ligne.
C'est considérable. (20)
Participez à 100 parties en ligne.
Au shaker (15)
Remportez 5 parties en ligne en mode Contrôle de territoire.
Fauteur de troubles (20)
Éliminez un total de 100 joueurs avec le pistolet d'or en mode Pistolet d'or.
Tout confort (20)
Éliminez un total de 1000 joueurs.
La nature du Mal (20)
Éliminez un total de 10 joueurs en tirant en aveugle, et à couvert.
3030 était un double (20)
Éliminez un total de 100 joueurs en restant à couvert.
Il joue de la harpe d'or (15)
Neutralisez le joueur au pistolet d'or avec une attaque de mêlée.
Die Another Day (15)
Échappez-vous avec Bond en mode Évasion de Bond
Dr. No (15)
Remporter une manche avec Bond en Contre Bond.
Moonraker (20)
Récupérez 30 téléphones portables.